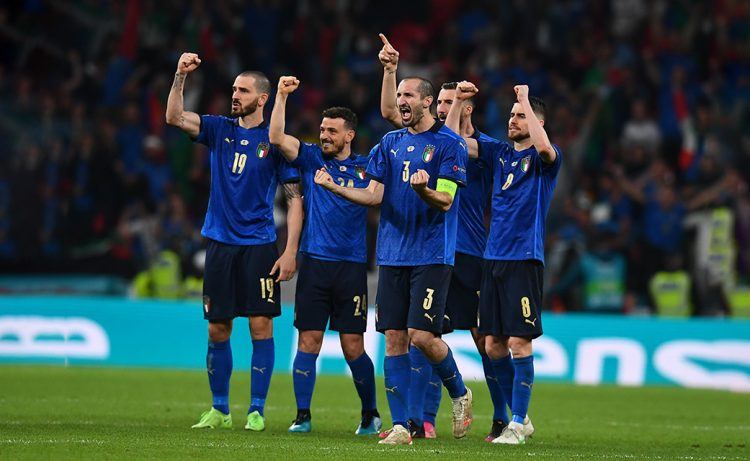 European
Champions!!
PUMA TEAM ITALY CROWNED EUROPEAN CHAMPIONS
July 12, 2021
PUMA TEAM ITALY CROWNED EUROPEAN CHAMPIONS
July 12, 2021
PUMA team Italy won the final of Euro 2020 in a thrilling match against England in London on Sunday, which was decided in the penalty shootout. For Italy, it's the second European title since 1968 and the second major title in PUMA gear since winning the World Cup in 2006.
The cards were stacked against the Azzurri early in the game, when England took the lead after just two minutes. But with the Italians getting to grips with the large English crowds cheering for the home team, they kept their cool and conceded no further goal in the first half.
After the break, the Italians were the stronger team and pushed for the equalizer, which came in the 67th minute. Neither team managed to score the winning goal so the match was decided on penalties.
It was high drama in the shootout, as both teams missed penalties. When England missed for the third time, however, Italy had won the match.
I think the team that played the best, looked the best and has an unbelievable leader in Giorgio Chiellini deserved to win the Championship.
PUMA is very proud to be the partner of both FIGC and Chiellini!
Forza Azzurri!
For Italy it has been a remarkable run, as with today's result they remain unbeaten for 34 matches. In this tournament, Italy didn't concede a single goal in the group stages and defeated Austria, Belgium and Spain in the knockout stages to set up the final clash with England.
Throughout the tournament, Italy played in a convincing, attacking style which won praise from commentators around the world.
From all of us at PUMA: Well done to Italy, the European Champions!
View this post on Instagram