Heidenheim is going up!
PUMA Team 1. FC Heidenheim to play in the 1. Bundesliga in 2023/2024 season
June 2, 2023
PUMA Team 1. FC Heidenheim to play in the 1. Bundesliga in 2023/2024 season
June 2, 2023
After a nerve-wracking game on Sunday against Regensburg and a great overtime score that led to the 3:2 victory, FCH celebrated winning the second league championship and the promotion to the 1. Bundesliga. So, 23/24 will be their first time in the big league, a massive achievement for the club and its supporters. Congrats for making it to the 1. Bundesliga, FC Heidenheim!
1. FC Heidenheim secured their spot in the top league with a hard-fought 3-2 win against Regensburg last Sunday. Thousands of FCH fans gathered on the pitch and in the stands at the Voith Arena on the following Monday as they celebrated the historic moment with their team. An unbelievable success for the club from the quiet little town of Heidenheim in southern Germany, with a population of just under 50,000.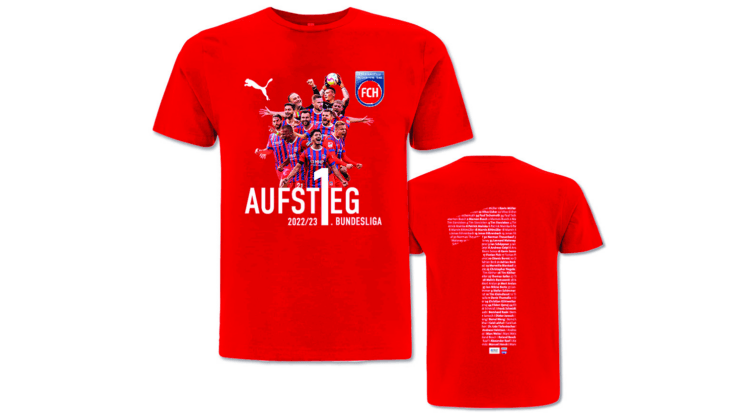 No fancy stuff, just pure football
Since joining the PUMAFam in 2022, Heidenheim has been on the rise. They're known for their strong connection to the local community and a squad that works tirelessly. The club values sustainability and consistency, both on and off the field.
Their long-serving officials and staff have played a vital role in building the club from the ground up and have proved that football isn't only about money – it's about the right mentality, consistency, and sustainability. We are proud to support FC Heidenheim in their quest to be FOREVER FASTER on their journey in the 1. Bundesliga.
And we are looking to the new season with great anticipation: we will have at least three PUMA Teams in the 1. Bundesliga: Heidenheim, BVB and Borussia Mönchengladbach. It's going to be an exciting one!