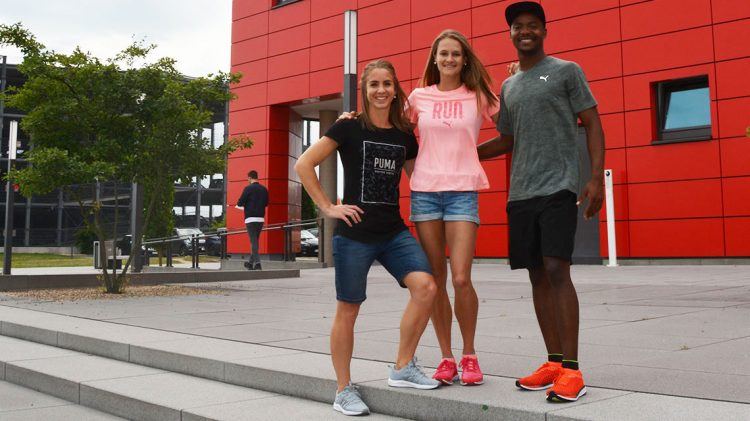 "The Shoes
support us
in the best way!"
PUMA SIGNS SOUTH AFRICAN SPRINT TEAM GRIGORA
July 4, 2018
PUMA SIGNS SOUTH AFRICAN SPRINT TEAM GRIGORA
July 4, 2018
The Cape of Good Hope, safari and surfing – that is what probably pops up first in your head when you hear South Africa. But Africa's southernmost country is far more than that. For example, it features some of the most promising track and field athletes and sprinters!
That is why PUMA signed the Grigora Sprint Team from Pretoria, South Africa. Ten athletes lead by coach Hennie Kriel, one of the world's most successful sprint coaches, belong to that team, that is now outfitted by PUMA.
Three of them visited our headquarters in Herzogenaurach recently to get to know their new supporter a bit better.
We generally try to invite all our partners to our headquarters sooner or later, because we want them to get to know PUMA, so that they can identify with the brand.
Hurdlers Wenda Nel and Rikenette Steenkamp as well as 19-years old sprinter Thembo Monareng spent a day getting to know PUMA a bit better. Thembo is among the world's three fastest 100 meter sprinters under 20 years. His personal best on this track is 10.18 seconds. Amateurs might think that this is not so far away from the magic 10-second-barrier, "but believe me, 18 hundredth is a lot in sprinting," explained Thembo laughingly.
But although he is not as fast as Usain Bolt just yet, the PUMA athlete and sprint legend definitely is his role model. "You should have seen him in the training the other day," said Wenda Nel and Rikenette Steenkamp, who holds the South African record over the 100 meter hurdles. "We watched a video of Usain and after that we saw Thembo doing exactly what he did, copying his techniques and his gestures."
Meeting Usain Bolt
in our Gym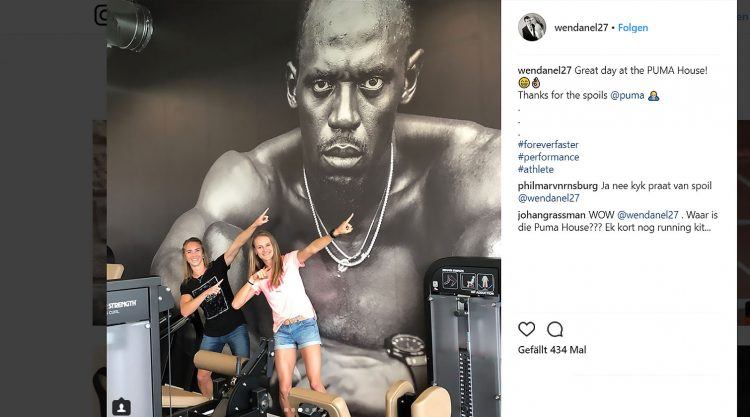 In their future races the three athletes and their team will jump and run in PUMA just like Usain. "We love the shoes and clothes PUMA creates. 'Cool stuff that works' really is what brings it to the point: the shoes support us in the best way, adapting to everyone's feet perfectly and look nice at the same time," they said about their new equipment.