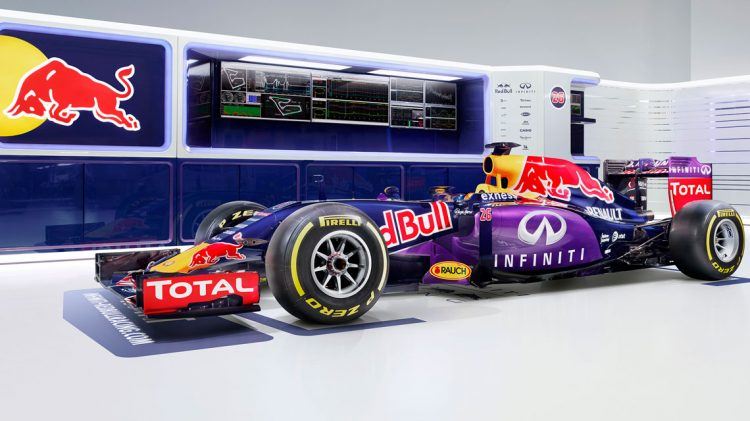 The Fastest of the
the Fastests
PUMA and Red Bull are back on board!
May 5, 2015
PUMA and Red Bull are back on board!
May 5, 2015
After our successful collaboration

from 2007 to 2010, we will be again equipping a Formula 1 racing team of beverage company Red Bull from 2016. This time it is the drivers and crew members of Austrian racing team Infinity Red Bull Racing, who will be wearing racing suits, shoes and teamwear made by PUMA. Australian

Daniel Ricciardo

and Russian

Daniil Kvyat

are the two drivers who are currently moving gears in the renowned blue-red-yellow racing cars, which have been powered by Renault engines since 2007.

The team won four successive Constructors' Championship titles in 2010, 2011, 2012, and 2013 and was the first Austrian licensed team to win the title. It also produced the quadruple world champion driver of 2010, 2011, 2012, and 2013 – Sebastian Vettel. Last year's season, however, was peppered with engine failures, leading the Team Principal Christian Horner to harshly criticize the performance of Renault engines.

Here, Bjørn Gulden and Christian Horner explain how innovative PUMA's racing wear is and whether the performance on the track will come back next season.
Bjørn, we previously had a partnership with the other Red Bull Racing Team, Scuderia Toro Rosso. Why did we pull this and why are we now getting back together?
BG: I can't answer for the previous management, because as you know, the pause was in a time when I was not at PUMA, so I cannot explain it. I can only tell you that when we did an analysis of our portfolio, Red Bull came up for us as a great partner. If there is a brand from an image point of view that fits PUMA, it is Red Bull. Red Bull is the most fun team in Formula 1 and if you look at Ferrari and Mercedes with their different images and positioning, adding Red Bull to our roster was the most natural thing.
We will equip them with all the racing gear both in apparel and footwear and they will drive our research and our innovation. We will also have different license rights, so we will make the Red Bull Merchandise a profitable business model for both of us. I think that it is a home run for both of us.
Do our products have an impact on the performance of the athletes? How much of the work we do is performance? Obviously, a lot depends on the engine …
BG: I am not a Formula 1 pilot, but we are working a lot on safety issues such as fireproof materials, which need to be combined with comfort and light weight. If you look at the footwear today that the drives are wearing, I think they weigh about a third of what they weighed five years ago. With the apparel being light, we make sure that there are materials that make you sweat less.
But I think Christian can answer that one better than me, because he has actually been a pilot.
CH: I think you have covered that very well. Basically, the drivers are athletes. They are training incredibly hard and their weight is crucial for us and so is the lightweight material that PUMA is now using in the suits, in the footwear, in the gloves. We are saving grams, but it all adds up. But it is not just about the drivers though. It is also the pit crew, the technicians. In the pit stops, we hold the world record for the fastest ever pit stop, which is 2 seconds. We are only going to be able to improve on that with the quality of equipment that we are using with our mechanics and technicians.
So what are the lightweight innovations that we are working on?
BG: In all sports, light weight is important. The less weight you carry, the faster you can be. At the same time, the shoe needs some stability and protection, so it is a balance. You create that by looking at materials and then secondly at constructions. The time, when you glued together 15 to 35 pieces on top of each other, is past. Most of the lightweight shoes are now almost seamless. They are made with new technology and materials.
CH: I think also it is the sensitivity of the materials. With the race car driver, like any other athlete, the feel and touch is so important. So the feedback that is getting through the throttle pedal, through the breaking pedal, the steering control and so on is the key cue for the driver that he is at one with the vehicle.
What about the other teams and the products that you develop with them? Are they not the same for Ferrari, Mercedes, BMW and Red Bull? 
BG: The research that we are doing together with the other teams is to a certain degree separate. We work with each of the drivers and the needs of the drivers and the specific requests they have are very often different. But, of course, if there is a major material direction, then there will be some features in common. That is true.
What is different then about the Red Bull products?
BG: The design direction that Red Bull is taking is very different. The way they use their logos and their colours and how fashion-forward they are will bring some excitement into Formula 1. It is not only about the technical function, but also about feeling good and cool and having nice looking designs. But you will have to wait until shortly after January 1 next year, when the products will launch.
Christian, you kept having engine issues in the last season. Have these issues been resolved?
CH: Right now, we are pushing very hard to get ourselves back into a competitive position. We rely on our engine partners to do that and I know that Renault cannot afford to be in the position they are currently in. So they are investing in the necessary resources to address the situation. There are talks about regulation changes coming up, probably in 2017. This perhaps will make the Formula quite not so enginedependent. But that is only talk at the moment. So our focus is very much on getting ourselves back to the front. We did it last year and I am confident we can do it again this year.
What does this Red Bull Announcement say about your strategy? Obviously, Motorsports fit in within the Forever Faster theme, but are there a lot more deals to come?
BG: I think Red Bull fits 100% with our strategy. Motorsports is the fastest sport that exists, with Formula 1 being the fastest of the fastests. PUMA has been in that sport for a long time. It fits our DNA to add Red Bull which again for me is the most fun brand in that sports.
Do you see it more like a marketing statement? Or will it contribute to your sales?
BG: When it gets to license, Motorsports is a big commercial business for us. We sell license merchandise all over the world from the teams that we sponsor – both in our own retail and through third parties. So it is not only an advertising image deal, it is also a commercial deal, which brings revenues and distribution to us.
Are the sports we are currently covering in our portfolio the ones we will be focusing on or will other categories be added?
BG: For the time being, we are focusing on the ones we have. We talked about focus, so Football, Running, Training, Golf and Motorsport are all important for us. But as I said before, there will be a time, when we will be looking into American sports. And we are currently in the process of doing that. However, currently we do not have any short-term plans of introducing a new category, but that might be the case mid-term.
How is Formula 1 going as a business?
CH: I think we are very good at talking Formula 1 down, but Formula 1 – outside of the Olympic Games and the World Cup – is the most viewed sporting entity in the world. And it is every season. The coverage of Formula 1 is continuing to grow. It continues to increase its reach as a true world championship, as we continue to push the boundaries in terms of where the races are held. But part of the attraction of Formula 1 is not just what goes on on track. It's a little bit the soap opera and the drama that goes on off track as well.
BG: And if I may add to it. It is also one of the few sports that are really, really global. In emerging markets such as China or India, the popularity of Formula 1 – at least what we can measure from sales and merchandise – is actually increasing. So I think the picture that we are getting in the western world is sometimes a different one than what is happening, if you look at it globally.
Will the PUMA Logo be replacing the Geox Logo on the gear?
CH: No, it will be much more predominant than Geox was. It will be predominantly placed on the car. But you have to wait until 2016 to see exactly where it will be.
BG: And in terms of apparel: The Logo will not be placed on apparel. IT IS PUMA APPAREL. It's a different thing!