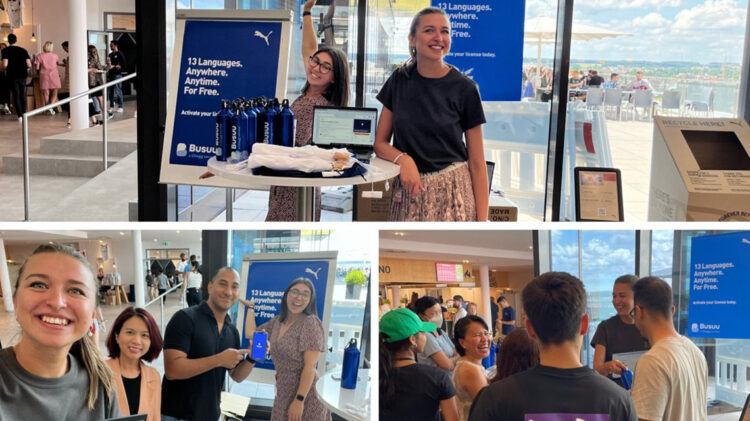 Learn a language
...for free
PUMA celebrates International Language Day
March 7, 2023
PUMA celebrates International Language Day
March 7, 2023
We believe that speaking another language promotes mutual understanding, creates connections and enriches diversity. It also improves our internal mobility. Speaking of … did you know about PUMA's global Busuu licenses, which cover fifteen languages? Want to improve a language yourself or learn a whole new one? That's no problem. You can do it easily in the app – for business or for your personal pleasure. February 21 was the International Day of Languages. We took this as an opportunity to take a closer look at the language courses and learning opportunities at PUMA.
By the way, PUMA received the eLearning AWARD 2023 in the category "Best Roll Out Project" for the implementation of this project. CATch Up spoke with a woman who played a big part in this. Read the interview with Polina Ivanova (Polly), Manager People Development & Organizational Learning and learn more.
Why did you decide to offer free Basuu licenses to all PUMA employees?
Polly: Speaking another language promotes mutual understanding and enriches diversity. While our global focus is on English, PUMA employees can also learn or improve another language, including for private use. They can also learn two languages in parallel if they like. We started with the language learning App Basuu three years ago, in 2019. The first pilot was for European retail employees only. In March 2022 we started going global. We increased our focus on language training and acquired a global Busuu license covering fifteen languages. All our employees, including retail employees can now learn a new language online in a self-directed and flexible way according to their needs. We have about 6500 active user, which is great.
Is learning in the app completely self-directed or do employees get additional support?
Polly: There is additional support. Learners are supported by certified trainers in live lessons, individually and in groups. We also offer physical meet ups. Here, participants are given a topic at the beginning and can then exchange ideas over drinks and snacks in the language that is new to them. At our PUMA HQ, these are usually English or German courses.
So there are also "classic" language courses with physical presence? 
Polly: Yes, there are. PUMA also offers weekly language courses in a classroom on the office premises so that employees no longer have to commute to external courses after work and can integrate more quickly into a local environment.
Huge congratulations for receiving the eLearning AWARD 2023 in the category "Best Roll Out Project" for the implementation of this project.What other learning programs are available at PUMA?
Polly: Based on a lifelong learning approach fostering a self-driven learning culture, we provide a state-of-the-art learning infrastructure integrated into our Workday  system on the intranet. Here are various internal and external training courses. With LinkedIn Learning and GoodHabitz for example, we offer more than 20,000 different online training courses for personal and professional development. There is also a variety of learning categories – available in up to nine languages.
Thank you for the exciting insights, Polly!