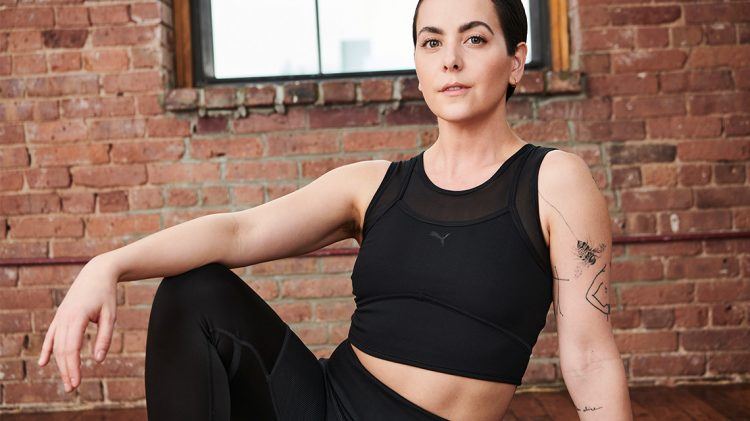 For body positivity
and self-love
PUMA partners with American fitness and lifestyle entrepreneur and LGBTQIA+ advocate Bethany C. Meyers
February 23, 2021
PUMA partners with American fitness and lifestyle entrepreneur and LGBTQIA+ advocate Bethany C. Meyers
February 23, 2021
Welcome to the family, 

Bethany C. Meyers.

 The American

fitness and lifestyle entrepreneur and LGBTQIA+ advocate

is the new face of our 

PUMA Studio Collection

and will be featured globally in campaigns and activations to support the brand, sharing their message of

body positivity and self-love

. Bethany will also be involved in our

Reform platform

, which helps athletes and ambassadors use their voices to speak to the inequalities in race, gender, or sexuality.
Bethany C. Meyers is an in-demand NYC-based master fitness instructor with over a decade of experience, known for their inclusive approach to movement. Bethany is non-binary gender and uses they/them pronouns.
They are known for being a pioneer in the body-neutrality space, which consists of the general idea that one shifts their thoughts about their body from criticism and possible hatred to a neutral state. Bethany is the self-made founder and CEO of the renowned fitness platform called the be.come project which was born out of the body-neutrality ethos. the be.come project focuses on teaching a zero-judgement fitness routine that takes approximately 25-minutes a day. It's an innovative approach to boutique fitness, and Bethany's knowledge of the body and love of joyful movement is visible in each routine.
Movement is my passion. Shame-free, judgement-free, feel-good-joyful-movement that focuses on all the things our body CAN do! So, when PUMA asked me to bring my approach to movement as their Global Ambassador for the Studio Collection, I couldn't have said yes any quicker. Having been a fitness instructor for over a decade, I choose to wear apparel that provides maximum comfort for my workouts, and the Studio line does just that. It's the perfect collection for all humans to allow themselves to feel body-neutral and be able to focus on both their mental and physical strength.
We are thrilled to have Bethany join the PUMA family. Their values, passion, and overall approach to fitness and life matched very well with PUMA's approach to studio — they were an easy pick to be our newest Studio ambassador. They share such an important message around body positivity and inclusivity and that's something that we want to share with our consumers.
PART OF #REFORM
In addition to being the Global Ambassador of PUMA's Studio Collection, Bethany will also be involved in PUMA's Reform platform. They will be focusing on the LGBTQIA+ Rights pillar, helping advocate to remove any barriers that exist that might keep people from engaging in sport and the culture around sport.