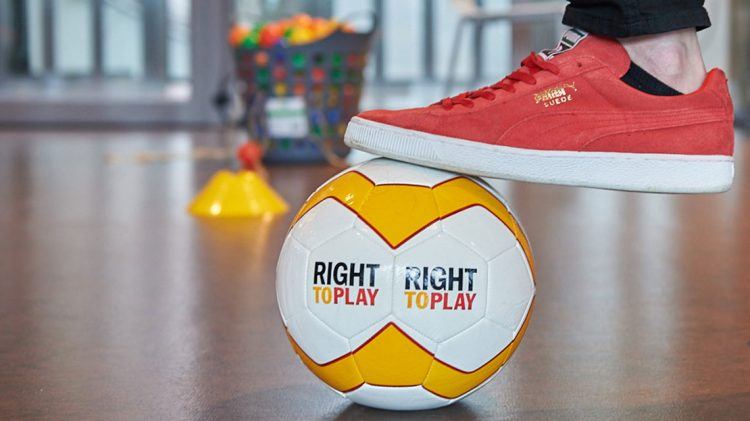 The Power
for Peace
PUMA partners with Right to Play to improve the lives of millions of children
May 11, 2017
PUMA partners with Right to Play to improve the lives of millions of children
May 11, 2017
Parents in Tanzania were baffled when their children asked for soap and water to wash their hands before eating.
The kids had participated in games organized by the international organization Right to Play that aimed to teach hygienic measures. Through a song about washing hands they learned when hands should be washed and which diseases can be caught when they are dirty. The song spread quickly across the schools, homes and the whole community.
The concept of Right to Play is simple, yet effective. The organization uses the potential of sports and play-based learning to support underprivileged children to build up life skills and achieve long-term behavior changes. "Our programs are targeted at disadvantaged children and young people between two and 24 years. In addition, teachers and coaches as well as families and communities benefit from the learning experiences, which have the power to induce positive change in societies," said Sven Schröder, National Director Right To Play Germany.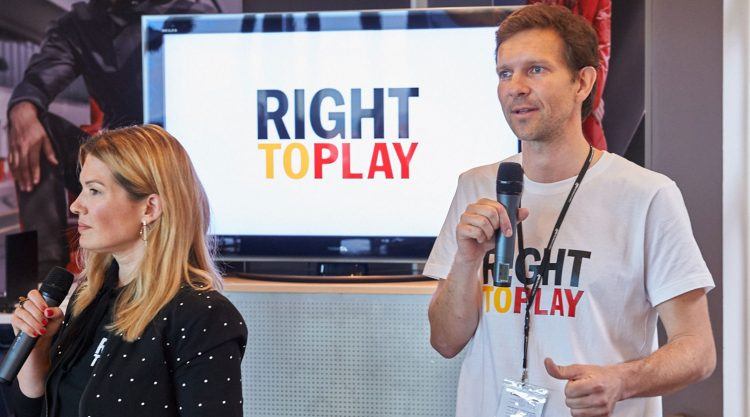 Through playing games, the children learn essential skills and values such as tolerance, empathy, self-confidence, and competences to solve problems and lead others. The games are designed to give them the opportunity to gain experiences and reflect upon those in group discussions afterwards. This helps them to understand and how to make use of them in their daily lives.
In April, Right To Play hosted a community engagement day at PUMA's Headquarters in Herzogenaurach, where employees had the chance to find out about how play-based learning works in order to use this in community projects. One of these games is a hurdle run which teaches respect and understanding that people are different. The children practice leadership skills, learn to trust, feel empathy and take on responsibility.
Play-Based
Learning
in the Canteen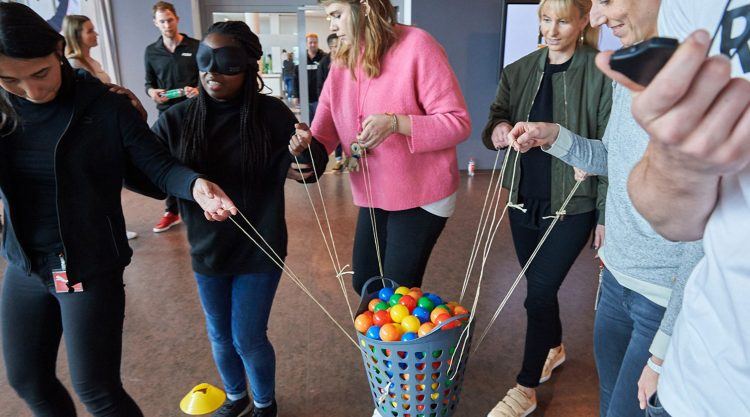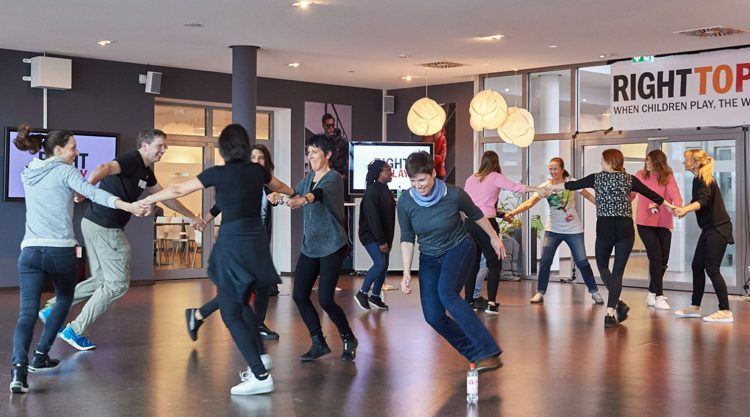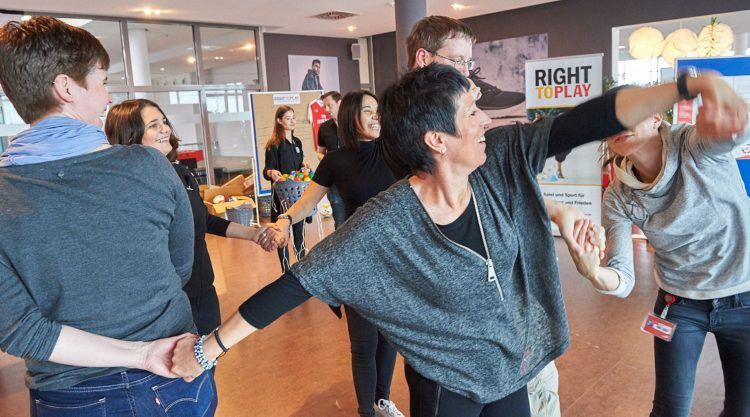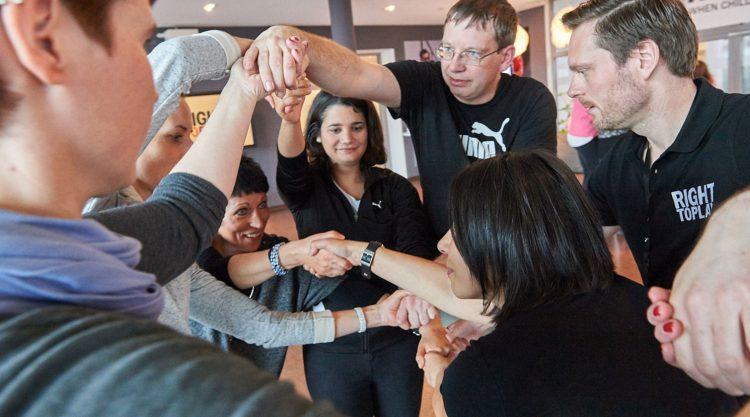 How does the hurdle run work?
The children team up in pairs. The task is to direct the partner who is blindfolded, through a field of obstacles, making sure that he or she does not stumble or step on the obstacles. It is not allowed to touch the blindfolded teammate and instructions have to be given verbally.
After the game, the children reflect upon questions such as: "How did you as the leader gain the trust for your blindfolded teammate? In which situations of your daily life are you taking on responsibility for someone? What exactly should you think about when you are responsible for someone in the future?"
I was curious about the Right To Play workshop, even though at first I was not keen on jumping around and uttering "battle cries" in the canteen. The insights the RTP Team gave us on how they were working with the kids and what an impact games can have on their education were compelling. What particularly struck me was the story they told us about a group of little girls in Pakistan, which through their organization had the chance to play outside for the first time in their lives.
Figures prove that play-based learning is indeed effective. In Pakistan, 94% of the children who have participated in Right To Play programs believe that conflicts can be settled peacefully – compared with 82% of children who have not taken part. 92% of participants in Uganda have learned how HIV is passed on and how to protect themselves versus 50% of non-participants. Through playfulness, it gets stuck in their heads.
The Power for Peace
That sports has the power to resolve conflicts and works across religions and cultures, shows a Right To Play project in Liberia. Two neighboring cities had been enemies since the civil war. When Right To Play kicked off the first, joint training for Right To Play coaches with participants coming from both cities, no one spoke to each other. However, the trainers succeeded in building up a mutual understanding and the coaches started to host "Peace" play days for children from both cities. The cooperation intensified and play games for teaching tolerance and constructive communication took regularly place. More and more children – who wouldn't speak to each other- were excited to take part and now they are playing together and supporting each other. "The training showed that the first step to like your enemy is to get to know him," said one Coach. Sometimes, it is as simple as that. Just like washing hands.
I'm really happy that I participated in this workshop and that I learned about such a great initiative. At the end, I fully enjoyed the games, which allowed us to share a moment of conviviality, but also to experience how sports and games can improve our work together as a team. It also gave me the idea to take action myself and to engage in the program PUMA and Right To Play are about to launch.