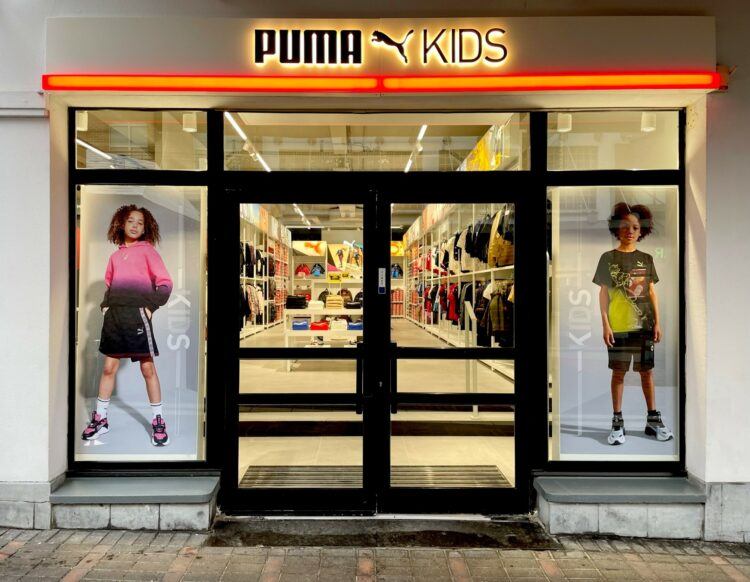 Stylish KIDS
in Europe
PUMA KIDS Opens Three New Stores in The Netherlands and France
January 23, 2023
PUMA KIDS Opens Three New Stores in The Netherlands and France
January 23, 2023
All for the kids! After our PUMA Kids store in Roermond (The Netherlands), we have now opened three more stores. This time near the capital in
Amsterdam

The Style Outlets,

Roosendaal

(the Netherlands) and

Roubaix

(France).

The store in France is the first permanent PUMA KIDS store!

Our PUMA KIDS presence in Europe is only expanding. Take a look inside the stores below!
Roubaix, France
Perhaps the most exciting PUMA KIDS store opening is the one in Roubaix, France. Featuring 130m² dedicated to just kids clothing, the store is the first permanent PUMA KIDS store! The store opened on December 7th as part of a 2-in-1 outlet with a dedicated kids store. It is part of the McArthurGlen Roubaix outlet stores and is a hybrid with the adult store already in that location.
Amsterdam, The Style Outlets
After the opening of our PUMA KIDS store in Roermond, our PUMA KIDS presence in the Netherlands is booming. Our new store in the Amsterdam The Style Outlets opened on December 16th as a separate unit from the main store we already have in the outlets. The stores are located between Amsterdam and Haarlem, two important hubs in the Netherlands! While the store is only temporary, it offers 107m² of unmissable stylish kids collections.
Roosendaal, The Netherlands
The third store we opened is also in the Netherlands, in the Designer Outlets Roosendaal. As another temporary store, it opened on November 21st with a size of 171m². The two temporary stores will be open for a whole year and exclusively sell PUMA KIDS.
The stores are all for the kids. Our latest kids collections are available in the stores, with mainly sportstyle for boys and girls in the age groups infants, pre-school and junior. Our bestsellers so far have been the Boys ESS PUMA Hoody FL, RS-Z College Jr and CN Hooded Baby Jogger.
Our PUMA KIDS is only getting bigger, so make sure to keep your eye out for what comes next!