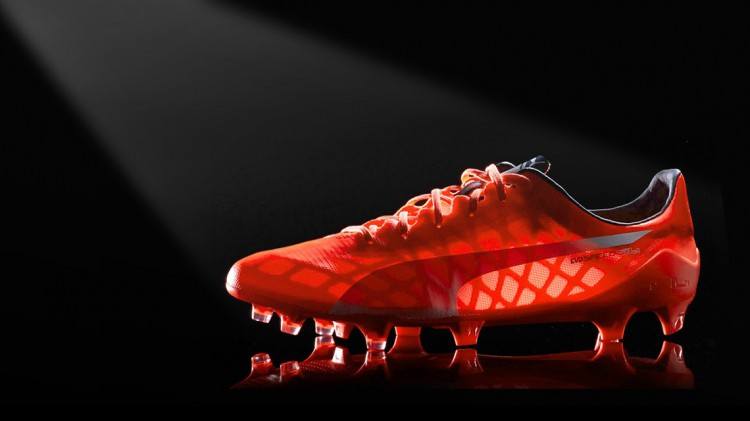 It's all
about Speed
The Football Boot evoSpeed then and now
April 18, 2016
The Football Boot evoSpeed then and now
April 18, 2016
As "light, flexible and custom-fit" did PUMA announce its evoSPEED 1 FG boots in the late spring of 2012.
For the EURO 2012 in Poland & the Ukraine, the shoe already committed to improving an athletes pace right after its release. It came with a lightweight, premium monolayer-microfibre upper material to enable optimal control of the ball and a strategically placed EverFit Cage for an excellent stability of the midfoot.
Since then, the evoSPEED collection has constantly evolved and half a decade later, it is far from being an outdated football boot. "The idea is timeless to an extent that the shoe still possesses an astounding relevance and we capitalize on the evoSPEED to this day – especially with its tooling that derived from the Usain Bolt sprint plate", our Global Creative Director Torsten Hochstetter emphasizes the uniqueness of the evoSPEED as it contains a component that was originally developed for a running shoe. "That's why the athletes get into sprinting situations way faster than players with traditional football footwear. It's all about speed – therefore it's no coincidence that Usain Bolt served as an inspiration for the evoSPEED."
Football players can now choose between eight different models of the evoSPEED, depending on ground lightness and fabrication. Among them is the latest arrival:  the evoSPEED SL-S, a version that features an extra durable upper and a 'lighter than light' feeling. Or the evoSPEED Fresh FG with its special mesh upper material and a coating that allows heat to get out while stopping moisture from getting in.
Finding these new materials was a great challenge for the designers: "Of course, we have come up with several ideas, but there's no use of pursuing them if they aren't feasible," says Torsten. "That's the difference between a designer and an artist. We have to conceptualize a functioning product that enhances the performance of an athlete, while taking a certain commerciality of the used colors into account as well as production costs and delivery times. It's a highly complex subject."
Not only the used materials have changed over time. Having started with a mainly white coloring, a red sole and a blue form stripe, the evoSPEED later appeared in many different color variations: Purple and orange, black and fluorescent yellow, shark blue and fluo peach, bright plasma and white, in dragon graphics or the lately dominant, vibrant safety yellow and atomic blue. Though the designers proved to be imaginative, the many different evoSPEED colorways were far from being coincidental as Torsten explains: "The coloring is always subject to the corresponding seasonality. As a result we adjust it throughout the year. These seasonal color palettes are very strict and eventually, we match these given standards with our visual language, our branding guidelines and our design principles."
Nevertheless, an exceptionally light football boot always poses a risk of being worn off to fast. Our designers took several measures to meet this challenge, which has mainly been solved by one special detail: "Although an exceptionally light upper material is used, the evoSPEED possesses many elements of a traditional football boot. In this special case, the solid heel cap merges into the light fabric to offer a higher level of stability", Torsten explains the twist on classic football boots.
Consequently, the evoSPEED still serves as the perfect companion for players that rely on their pace, particularly strikers that depend on being passed to, making a fast trick and outpacing the defender. After all this time, the evoSPEED still doesn't only stand as an exceptional approach on sports footwear, but also as an impeccable fit for the PUMA ideology. "PUMA is 'Forever Faster', and  the evoSPEED is the perfect product for our brand. You can't position a product silo any closer to your brand philosophy," says Torsten.