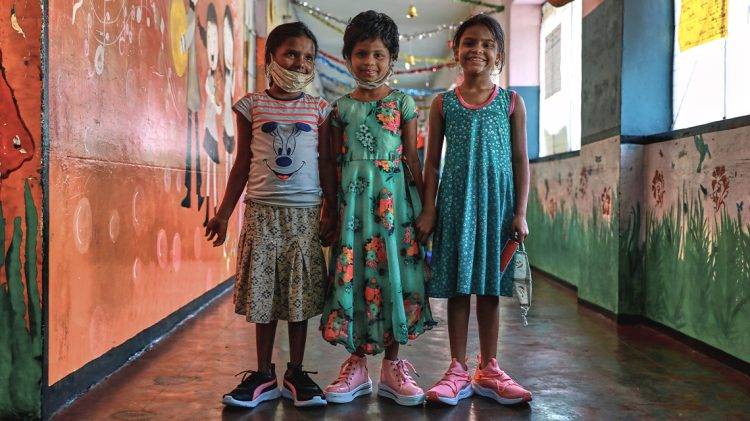 dreams
come
true
PUMA employees in India fulfilled orphaned kids' wishes
January 31, 2022
PUMA employees in India fulfilled orphaned kids' wishes
January 31, 2022
A team of PUMA India employees visited 385 orphaned children in Bengaluru to make a positive impact on their lives. After sharing a list of their dearest wishes, PUMA employees stepped in to collect all of them and make them come true.
Our PUMA Team in India visited 385 kids in 8 orphanages in Bengaluru, India. Among them, mentally challenged and underprivileged children aged from 1-20 years who unfortunately, never experienced the feeling of receiving a gift. Most of these kids are either homeless or are in difficult family situations. After spending some time playing and talking with them, all kids shared a list of wishes with the PUMA employees. Their asks were very simple. Some kids just asked for a chocolate, some an ice cream, some an apple or a school bag. What might seem to be something regular to us is a luxury for these children. The list was shared with PUMA India employees who in turn picked wishes and fulfilled all of them. Each and every gift got wrapped in colourful gift papers, mentioning their names and a personal message. During the whole event, PUMA made sure to carefully stick to the current hygiene restrictions.
"When this idea was being discussed, we immediately knew this would be something our employees would find inspiring and it would give them a sense of deep fulfilment on being able to bring a smile to a child. I am touched at the response we received from the team where wishes from 385 children were picked in a matter of hours and fulfilled. Special thanks to the team who ideated and executed this initiative and to all the employees who contributed in creating these memories for the children. We definitely plan to bring many such initiatives forward."
When the kids received the gifts, their happiness was unmeasurable, the enthusiasm to see the gifts and their names on the boxes was so beautiful to witness. It was extremely overwhelming for our entire team. The smile on every child's face was a precious gift for us. This motivates us to do this again.