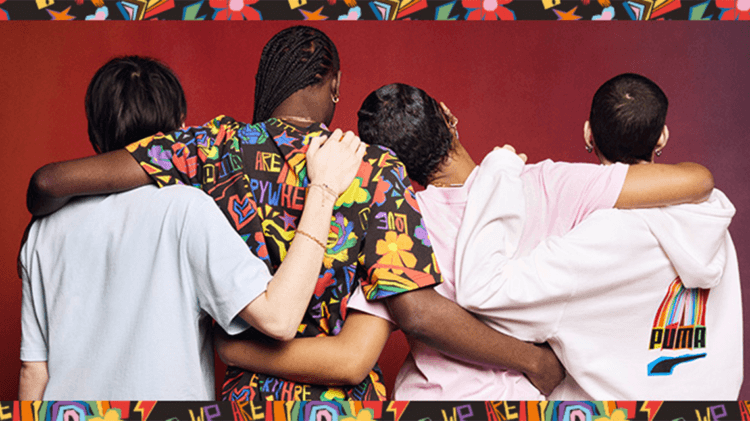 #REFORM
BE PROUD, BE YOU
PUMA BOLDLY CELEBRATES PRIDE AND DIVERSITY
June 5, 2023
PUMA BOLDLY CELEBRATES PRIDE AND DIVERSITY
June 5, 2023
We celebrate the pride month in June and support the PRIDE community! A round of global and local initiatives are planned to underline our commitment to diversity and inclusion, and to give our PUMAs the chance to show true PUMA spirit. Read on to see how we celebrate the LGBTQ+ community.
"Equality and non-discrimination are an essential part of our corporate philosophy. We welcome people of all backgrounds, sexual orientations and genders. The diversity of our employees is one of our greatest strengths."
Raising awareness and learn
To live up to our values – BE DRIVEN, BE VIBRANT, BE TOGETHER, BE YOU – it is crucial to create a culture, where all of our employees can be their authentic self. Together, we stay open minded and learn how to maintain a respectful and inviting atmosphere. In June, our PUMAs can strengthen their awareness and expertise with special in-house trainings and a wide range of e-learnings on diversity, equality and inclusion. From learning how to actively curb biases and attending sessions on cultural diversity, to a guided course on how to confront bullying and harassment, our PUMAs learn to continuously create a respectful and supportive workplace that enables everyone to simply be themselves.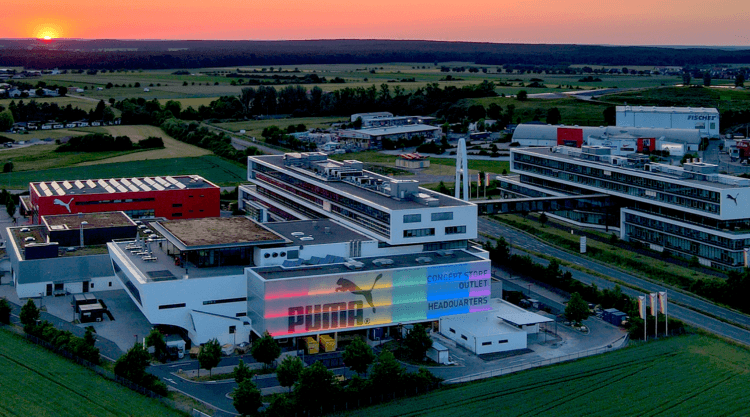 With shining lights and waving flags
To celebrate Pride Month, the facade of our PUMA Brand Center in Herzogenaurach is shining in rainbow colors throughout the whole month of June. To show our support for pride and the LGBTQ+ community, we have hoisted pride flags all around our Herzo HQ and make our values and beliefs visible for the whole world to see.
"Diversity is not what you can measure with statistics. It's more of a mindset. And the mindset is to question whether you're open to (listening to people with) different perspectives. And whether you're inviting people to play, regardless of their background."
PUMA x The Trevor Project
To further our commitment to advocacy and education, we have also partnered with The Trevor Project, the leading suicide prevention organisation for young LGBTQ+ people. Together, we have created the #REFORMTheLockerRoom curriculum, a free online training course which aims to promote inclusivity and educate coaches, athletic directors, and other youth-facing sports leaders about the importance of respecting and celebrating diversity.
The #REFORMTheLockerRoom curriculum was launched on May 30th. For further information please follow the link: https://reformthelockerroom.thetrevorproject.org .
PUMA x CSD Nürnberg
Recognizing the importance of creating a safe and inclusive environment, PUMA joins forces with the support association Christopher Street Day (CSD) Nürnberg e.V. for the fourth time. Through this collaboration, we support the main organisation for the LGBTQIA+ community in Nuremberg, Bavaria, who fights for freedom and equal rights, takes action against homo-, bi-, inter- and trans-and queer hostility and discrimination. Together, we aim to amplify the voices and rights of the queer community and signify our commitment to promoting diversity and equality internally as well as externally.
This Year's Pride Collection
As another part of our commitment to inclusivity, we have released a new product line that celebrates PRIDE. This collection was created in celebration of LGBTQ+ pride, and the right to be your true, authentic self. It showcases PUMA's support for the LGBTQ+ community and its ongoing efforts to promoting advocacy, education, and inclusivity by championing the aesthetics of the gay liberation movement of the 1960s.
🛍️ Shop the collection now on www.puma.com!
With our REFORM platform, the PRIDE collection, and our local partnerships with The Trevor Project and CSD Nürnberg e.V., we are supporting in creating a more inclusive and accepting world for all 🏳️‍🌈.