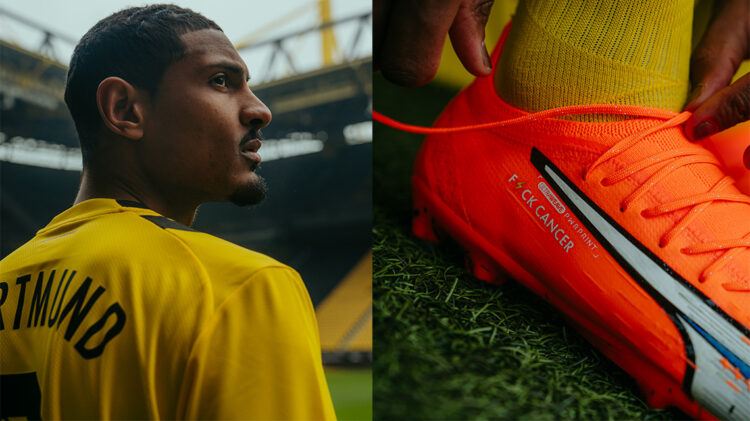 The best comeback
of the year already 👊
PUMA ATHLETE SÉBASTIEN HALLER CELEBRATES EMOTIONAL DEBUT
January 23, 2023
PUMA ATHLETE SÉBASTIEN HALLER CELEBRATES EMOTIONAL DEBUT
January 23, 2023
What an incredible return! Welcome back, 

Sébastien Haller! 
🖤💛

Last Sunday, Sébastien celebrated his official comeback to the pitch with thousands of fans after his successful battle with testicular cancer. "F⚡️CK CANCER", was written on his Supercharge ULTRA football boots. A clear message that will also be seen on his shoes in the next games. The whole PUMA family is happy to have you back, Sébastien! The cherry on top: His PUMA team Borussia Dortmund also won the match against Bundesliga team FC Augsburg 4:3.
PUMA athlete Sébastien Haller made his competitive return last Sunday after testicular cancer in the BVB's thrilling 4-3 Bundesliga victory over Augsburg. The striker from the Ivory Coast signed for PUMA team Borussia Dortmund last summer but only two weeks later a testicular tumour was diagnosed. Now Sébastien was set to make his official debut. Sébastien 's introduction as a 62nd-minute substitute, was met with rapturous reception.
View this post on Instagram