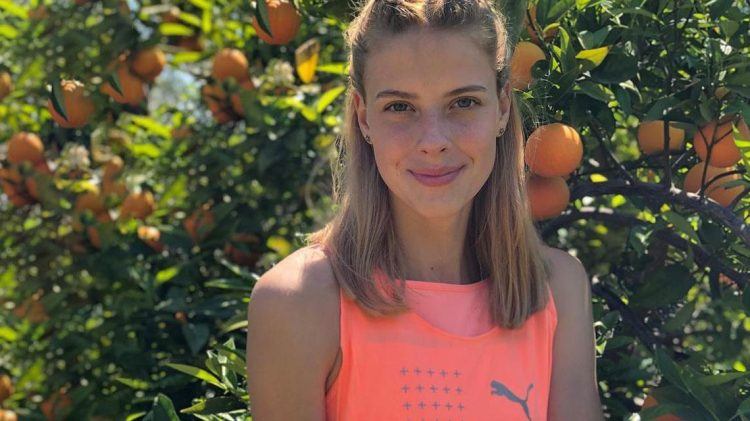 PUMA Athlete named
"World Athletics
Rising Star 2019"
18-year old PUMA Track and Field athlete on top of the world
November 28, 2019
18-year old PUMA Track and Field athlete on top of the world
November 28, 2019
Young, ambitious, and talented are just a few words to describe
record-breaking Yaroslava Mahuchikh

, who just last weekend received the "Rising Star" award at the World Athletics ceremony 2019 (formerly "IAAF Athlete of the year").
The prestigious title was given at the Grimaldi Forum in Monaco, in recognition of Yaroslava's incredible 2019 season. The well-earned award took into consideration the numerous recent accomplishments, such as tying for the U20 World Indoor Record, breaking the U20 World Outdoor Record, and winning silver in the U20 category for an shocking 2.04m jump at the IAAF World Championships – as the youngest Field event medalist in the history of the Championships (at just 18 years and 11 days).
In spite of her successes, Yaroslava remains modest.  "Thank you to everyone who supports me and believes in me. I never imagined that I would take the silver medal in Doha."
Other Female Rising Star Award nominees were Britany Anderson (Jamaica), Lemlem Hailu (Ethiopia), Glenda Morejón (Ecuador), and Sha'Carri Richardson (the United States), but Yaroslava is the only one now considered a world champion.
She's amazing. Not only is Yaroslava the youngest ever athlete to win an IAAF Diamond League Event at just 17, but she's quickly become one of the best athletes in high jump. Working with her is great, because like us, she's relentlessly striving for excellence. We're also super excited to be part of Yaroslava's mission to win an Olympic gold medal and break the three-decade-old world High Jump record.
PUMA is proud of our young, budding athletes and will continue to find and support talented, focused, and record-breaking top performers from around the world. Stay tuned for more on Yaroslava and other PUMA athletes.