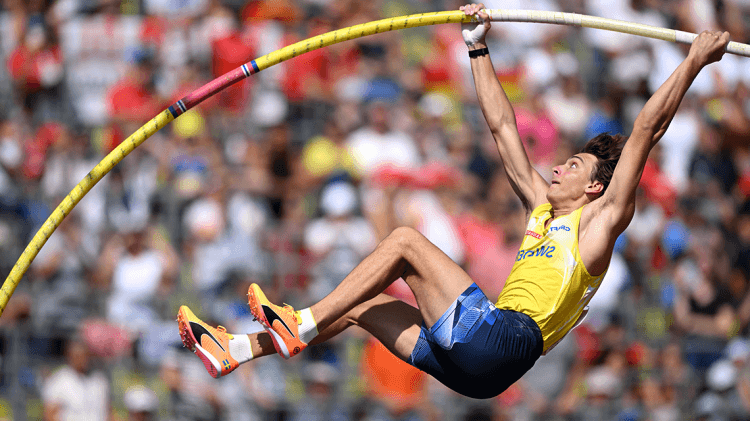 Another
record
for Mondo
PUMA athlete Armand "Mondo" Duplantis sets new pole vault world record of 6.23 metres
September 18, 2023
PUMA athlete Armand "Mondo" Duplantis sets new pole vault world record of 6.23 metres
September 18, 2023
Another world record for Mondo! At the Diamond League Final in Eugene, PUMA Athlete Armand "Mondo" Duplantis broke the pole vault record  for the seventh (!!) time, setting a new mark of 6.23 metres.
It's difficult to get into words how unbelievable Mondo's performance is. While there are no longer separate world records for indoor and outdoor events, Mondo broke the unofficial outdoor record, which was set five years before he was even born, in 2020. On Sunday in Eugene, he jumped 9 centimetres higher than that 1994 World Record.
Here is Mondo's Progression of World Records:
6.17 m
FEBRUARY 8, 2020
Corpernicus Cup in Torun (Poland)
6.18 m
FEBRUARY 15, 2020
Glasgow meeting (Scotland)
6.19m
MARCH 7, 2022
Meeting in Belgrade (Serbia)
6.20 m
MARCH 20, 2022
World Indoor Championships in Belgrade
6.21 m
JULY 24, 2022
World Championships in Eugene (United States)
6.22 m
FEBRUARY 25, 2023
All-Star Pole of Clermont-Ferrand
6.23m
SEPTEMBER 17, 2023
Diamond League Final, Eugene
Another amazing performance, Mondo, your PUMAFam is proud of you!
View this post on Instagram