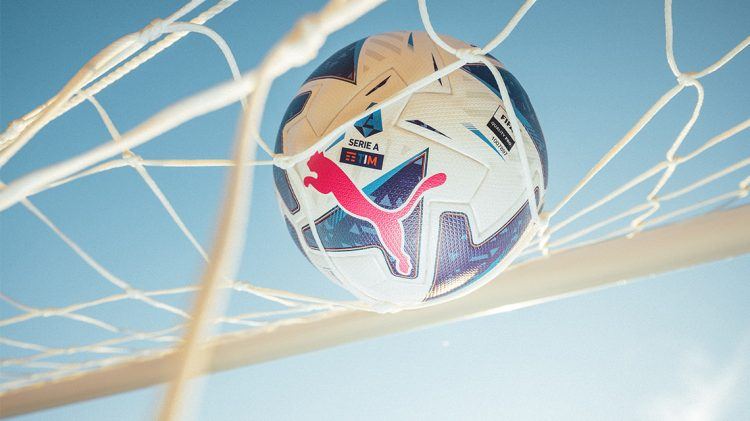 We proudly present:
The Lega Serie A Football
PUMA AND LEGA SERIE A UNVEIL THE ORBITA SERIE A 2022/23 MATCH FOOTBALL
June 23, 2022
PUMA AND LEGA SERIE A UNVEIL THE ORBITA SERIE A 2022/23 MATCH FOOTBALL
June 23, 2022
New ball. New culture. Now it is official! Together with Lega Serie A we have drawn the curtain back on a piece of footballing art. With the new 2022/23 Serie A match football we are now the Official technical Partner of Lega Serie A. The match balls name is: ORBITA. 🪐 It features powerful graphics inspired by the Serie A logo and blends elements of Italian progressive art. An additional detail places the Italian Tricolore around each of the custom graphics. With a total audience of more than one billion viewers in nearly 200 countries and over 530 million fans worldwide, Lega Serie A is one of the most watched leagues in the world. We can hardly wait until the games start again and we see the ball in action!
"Over the last year and a half, we have developed, tested and modified the new ORBITA to create a ball that will perform at the highest level. The new 12 star-shaped panel configuration results in the optimal sphere to allow for better connection on the ball. We are excited to see the new ball in action in one of the top leagues in the world and we hope it will provide beautiful moments on the pitch."
-Thomas Schwarz, PUMA Head of Product Line Management Teamsport Individual
We are already very active in Italian football through iconic teams such as AC Milan and US Sassuolo and over the years has collaborated with much-loved players including Diego Armando Maradona, Giorgio Chiellini and Gigi Buffon.
The ORBITA ball is a blend of PUMA black, red, cool grey, sunset red, amazon green with a range of blue color palettes Integrated into the white base to ensure excellent ball visibility.