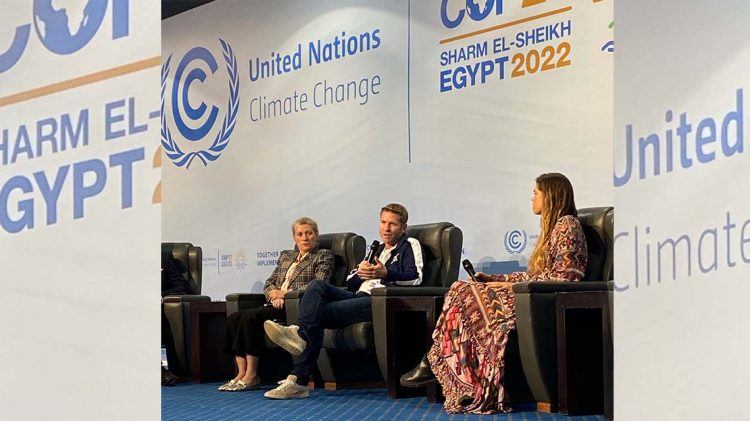 More
renewable
energy
PUMA and Fashion Industry take stock on climate targets at UN Climate Conference
November 17, 2022
PUMA and Fashion Industry take stock on climate targets at UN Climate Conference
November 17, 2022
PUMA joined representatives of the fashion industry at the United Nations Climate Summit COP 27 in Egypt to increase the push for renewable energy in sourcing countries and to cut CO2 emissions from the supply chain.
In 2018, the fashion industry announced a sector-wide plan of action to do its bit to keep global warming below 1.5 degrees celsius and achieve net-zero emissions by 2050. PUMA had played an important part in the preparation of the agreement, the Fashion Industry Charter for Climate Action.
PUMA representatives Stefan Seidel and Benedikt Wittmann were in Egypt to add PUMA's weight to the call for more renewable electricity in sourcing countries and to find ways to make green energy more attractive in these markets.
Another important step in decarbonising the supply chain is to get the thermal energy needed in the dyeing and finishing stages from renewable sources. With the Chinese National Apparel and Textile Federation CNTAC as well as Net Zero Pakistan there were also two important industry bodies of sourcing countries present. Major sustainability organizations Sustainable Apparel Coalition, Global Fashion Agenda and Apparel Impact Institute also joined in discussing best practices and challenges.
Stefan and Benedikt were backed up by PUMA ambassador and French football star Raphaël Varane, who recorded a video message to highlight the urgency of acting now to tackle climate change.
Earlier this year, PUMA announced that its own carbon emissions and those from purchased energy dropped by 88% in 2021 compared to 2017. But PUMA also managed to reduce emissions in the supply chain, the most carbon-intensive part of our business. Even though PUMA recorded strong growth of 65% between 2017 and 2021, we cut CO2 emissions from the supply chain by 12 %. If adjusted for the sales growth, greenhouse gas emissions from PUMA's supply chain fell by 46%.
It has been four years since we started our journey with UN Climate to reduce our industry's carbon emissions. Much remains to be done but we are encouraged by the amount of people and organisations who are now working together on Climate Action, so we can reach our ambitious goals.