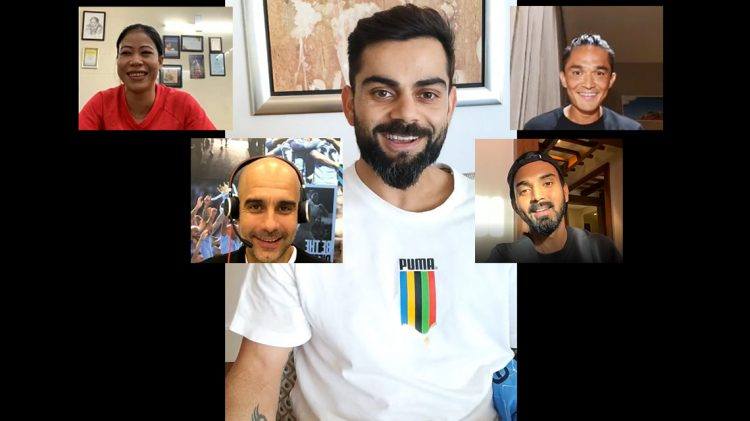 United in sport
PUMA AMBASSADOR VIRAT KOHLI HOSTS EXCLUSIVE LIVE CHAT SESSION
October 20, 2020
PUMA AMBASSADOR VIRAT KOHLI HOSTS EXCLUSIVE LIVE CHAT SESSION
October 20, 2020
In an
Instagram Live

session, five 

talented PUMA ambassadors

 talked about sports and life on and off the pitch, as part of PUMA India's #UnitedinSport campaign.

Virat Kohli, PUMA athlete and Captain of the Indian Cricket team hosted the Instagram Live session, joined by Indian Cricketer KL Rahul; Manchester City FC Manager Pep Guardiola, Captain of the Indian National Football Team Sunil Chhetri, and Boxing World Champion MC Mary Kom.
The athletes discussed sports, life and what inspires them. Manchester City Coach, Pep Guardiola talked to Virat about the mindset that is needed to be a gamechanger in football, how he also learned best practices from other areas of play and how the situation with the COVID-19 pandemic has changed the energy and the feeling of football dramatically.
"I don't remember the titles I win. I remember the moments in the locker room, the preparations for the game, dinner with the mates. At the end of the day, statistics are numbers. In the process, if you don't enjoy it, it's not nice. "
Sunil Chhetri, an Indian professional footballer and captain of the Indian national team, talked about the start of the pandemic and how he had no clue about what was going on during the first months. He said he was more grateful about his life now.
India's second highest goal scorer told Virat about handling the pressure of performing and the unconditional love he feels for football and his fans.
"I think in life I have learnt more from defeats. When I've won a lot, over a period of time I feel I become complacent"
Mangte Chungneijang Merykom, better known as MC Mary Kom, an Indian boxer, mother and 6-time world champion, gave the audience goosebumps when she talked about the difficulties of motherhood, the COVID-19 restrictions and how she broke all stereotypes.
The cancelled Olympics were a shock to her, but she said her life was all about having the right mindset to overcome challenges.
"Always go for goals, motivate, never give up, keep fighting. That's what I always tell young boxers, kids and parents."
KL Rahul and Virat Kohli talked about their similarities as professional cricket players, the way of thinking and behaving in order to succeed and what it takes to always be two steps ahead of the opponent.
"It's important as a leader to make sure everyone's having fun and let everybody know what they're doing right and what they need to improve on."