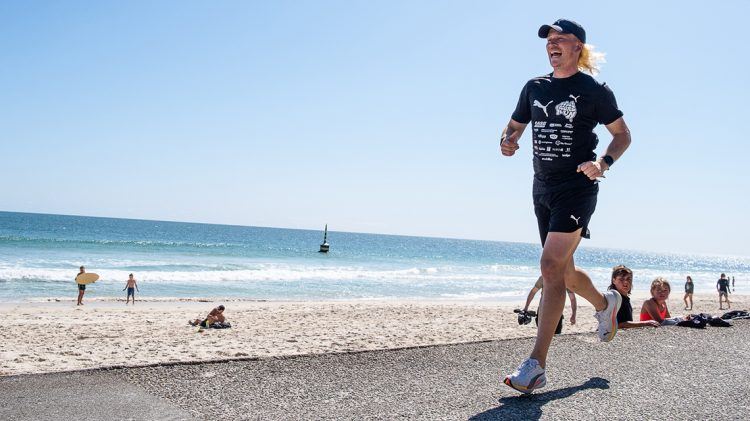 Two marathons a day
and a world record
PUMA ambassador Nedd Brockmann wants to be the fastest man to ever run across Australia
September 1, 2022
PUMA ambassador Nedd Brockmann wants to be the fastest man to ever run across Australia
September 1, 2022
Meet Nedd Brockmann! The young Australian with the bleached blond mullet is on a mission. Hold on tight! Nedd wants to run 100km per day for 40 days to break a world record, raise $1 million for the homeless and inspire a nation to get up and move 1 million km's. 🤯 And he has our full support! PUMA provided him also with all the equipment he needs to make his way from Cottesloe Beach in Perth to Sydney's iconic Bondi Beach. TODAY his incomprehensible journey and his attempt to break the record for running across Australia starts! 💥
CATch Up was fortunate enough to speak with Nedd earlier this week to ask him about his inspiration, work ethic, his running playlist and (of course) about his running shoes. LEESSGGOOOOOOOOOO!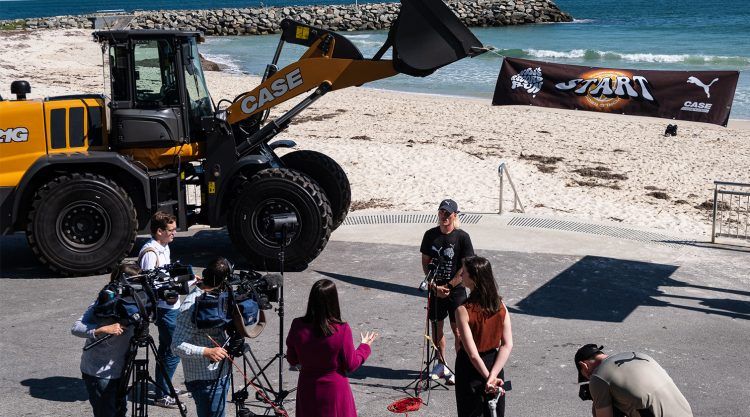 Nedd, where does your work ethic and mental constitution come from?
Nedd: Most of it comes from my Dad. He is the person I look up to the most. He is a farmer and has worked so hard throughout his life to provide for our family. His work ethic and resilience has inspired and enabled me to take on challenges like this. He always backed me and never told me what I could or couldn't do, but just said whatever you do, do it at a 100%!
I also look up to Irael Adesanya, because he is so genuine and himself, does what he wants, how he wants and his confidence and ability go hand in hand.
Do you have any tips?

Nedd: Just keep showing up even when you don't want to because that's where the beauty is.
You´ll plan to run from Perth to Bondi Beach. That´s 3,800km!

Nedd: That's right – I'm going to be doing 100km a day, so a bit over two marathons a day for 39 days straight. The time to beat is 43 days and the Guinness World Record is 65 days. I can't wait!!
How did you prepare for this run?
Nedd: It's been a year and a half of preparing and training – running and strength training. Whilst the physical side is really important, its also important to be mentally prepared as I know it's going to be bloody tough and I will do everything that is required to get to the finish line at Bondi Beach.
How does your game plan for recovery and nutrition look like while you´re running?
Nedd: Sleep is crucial, so making sure everything is set up so I can get straight to bed as soon as I can.  I'll be having daily ice baths and eating regularly while I run because I will need to replace 9000 calories a day.
Do you have a running playlist?

Nedd: Yep, I do. This is Miley Cyrus playlist on Spotify and I also love 80's rock, anything from ACDC to Bon Jovi and INXS! I'll also get around Queen, ABBA, and some country music. I just choose something that feels right at the time.
View this post on Instagram
What´s your go-to running outfit?

Nedd: I love the PUMA drycell evo knit T-shirt – great for those hot and sweaty long runs!
What´s your favorite running shoe and why?
Nedd: My favourite is the PUMA Nitro Deviate Elites – they are responsive, light, and fast for quick runs. They have been great for a lot of my shorter training runs.
How does your morning routine look like before the run?
Nedd: I don't have much of a routine, I find it best to just get up, put my shoes on and run.  Occasionally I will have a quick bite to eat like an egg wrap but normally I just get going.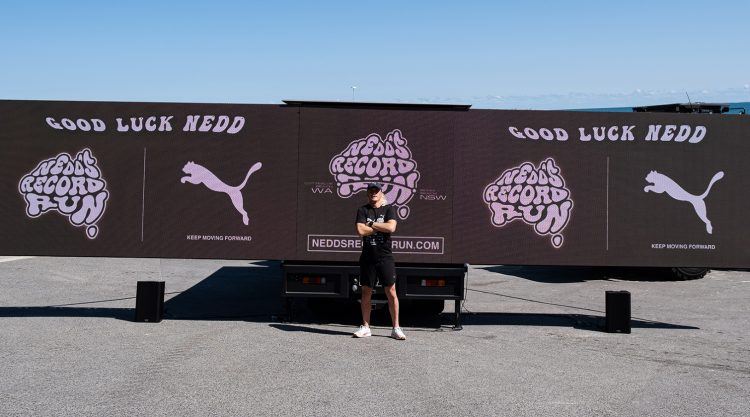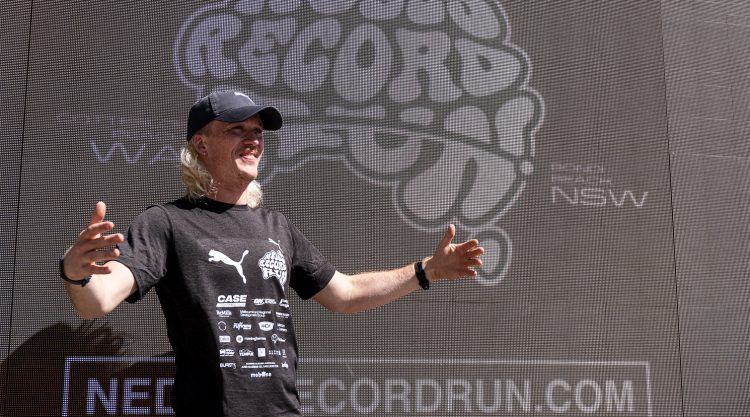 Why do you want to run across Australia and beat the world record?
Nedd: I love a challenge and there is pretty much no bigger challenge than this. It also helps doing something that gets attention so I can then raise awareness of the homeless charity I am trying to help.
Let´s say, you´ll raise the money you want to raise. How will the money impact the life´s of the homeless in Australia?
Nedd: There are more than 100,000 Australia that are homeless every night. The charity We Are Mobilise try to help as many of them as possible by giving them vital supplies, but most importantly connecting with them as human beings and showing them that there are people in the world that care.
Will you return to your job as electrician?
Nedd: Most likely but I'd love to keep doing more of this – taking on challenges and helping those who need it most. Any other PUMA countries have a challenge I can take on? 😊
What will you do after the run? Vacation?
Nedd: To be honest I haven't thought about it. I'll worry about that once I finish the run.  It won't involve running for a while, that's for sure.
Nedd, you have the full support of the entire PUMA fam- good luck and have fun! Thanks a lot for the chat! LESSSGOOO!