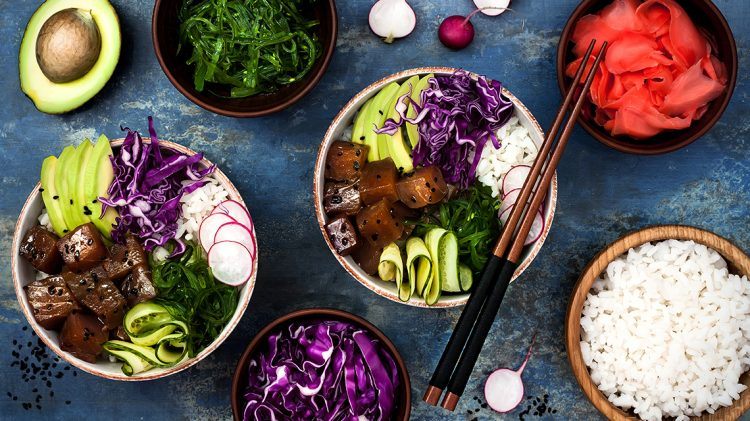 Poke – Pacific
Rim Cuisine
Put a little Aloha on your plate
March 31, 2018
Put a little Aloha on your plate
March 31, 2018
Light, fresh and delicious –
Polynesian cuisine

is taking over the world with poke! The raw fish salad – pronounced poh-keh – can easily be considered the "hamburger" of Hawaii. Refering to the way the fish is cut, the term poke is translated as "to chop" or "to cut crosswise". The national dish is ubiquitous and an almost inevitable attendant at family gatherings, parties and supermarket delis across the islands. Nowadays there's

plenty of variations

on the standard poke. Most common, it is served as a main course with steamed rice and fresh vegetables such as edamame, avocado or sugar snap peas. Besides the fact that it's super delicious it is also exceedingly

simple to make

.
WHAT YOU NEED (SERVES 4)
400 g salmon or ahi tuna
150 g sushi rice
1 tbsp. black sesame seeds
1 tbsp. white sesame seeds
½ avocado
1 ½ bunch of spring onions
edamame
radishes
½ mango
goma wakame seaweed salad
1 stalk coriander
2 tbsp. red cabbage
For the marinade:
4 tbsp. soy sauce
1 lime
chili powder
1 tbsp. honey
HOW TO PREPARE
1. Put the fish in the freezer for about 30 minutes (this will make it easier to cut later on)
2. Wash rice and boil it according to the instructions. Spread it on a large plate to let it cool down.
3. Take the fish out of the freezer, check it for bones, remove the skin with a sharp knife and chop it into ½ inch cubes.
4. Put the ingredients for the marinade in a bowl, add the fish and mix well. Cover the bowl with cling wrap and put it in the refrigerator.
5. Cut the mango and the avocado into small cubes. Wash the radishes and spring onion and cut it into small pieces.
6. Pod, wash and dry the edamame. Wash and chop the coriander. Brown the black and white sesame seeds in a coated pan without adding oil.
7. Fill the cooled-off rice in a bowl, put the vegetables and fruit on top. Lastly, place the marinated fish in the bowl and sprinkle with sesame and coriander.
8. Your poke bowl is ready to eat! Enjoy!