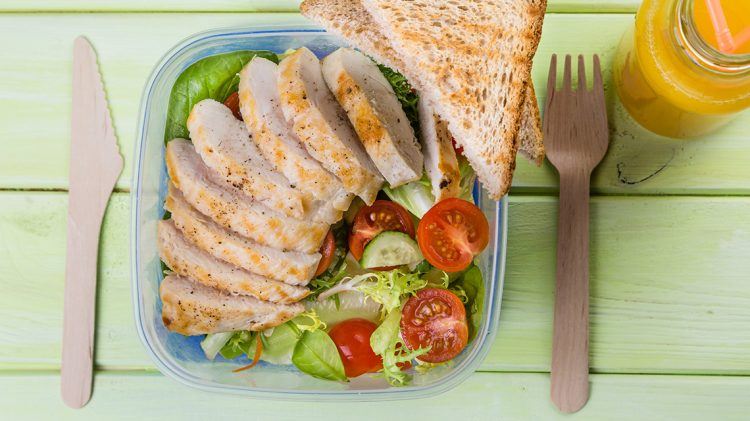 In Focus:
Meal prepping
Plan, prepare, eat, repeat
February 22, 2018
Plan, prepare, eat, repeat
February 22, 2018
When it comes to a balanced, healthy diet,
preparation is key

! Especially if you want your nutritional choices to support your fitness results,

meal prep is your friend.
What:
The term meal prepping is pretty self-explanatory: it refers to the habit of preparing your meals ahead of time. It is especially popular among people who work out regularly since it is a sure-fire method to plan out your intake of protein, carbohydrates and fats.
What if you don't do it for the gains? Well, meal prepping is all the same a great way to eat healthier while saving time and money. While meal prepping does involve some kind of motivation and dedication (When do I cook? What do I cook? How do I properly store my meals? etc.), it can ultimately help make your day-to-day life a lot easier once you get into a groove.
USP:
Prepping your meals is an effective and money-saving way of tricking yourself into eating healthier.
Why:
Chances are high that once you have the healthy and convenient (!) option at your fingertips, you are more likely to maintain a healthy routine. Dish the takeaway for some home-cooked goodness and know exactly what goes onto your plate – and into your body – at all times.
How:
Take it easy and start off with a couple of recipes. Meal prepping is supposed to take the stress off, not add extra pressure. Nevertheless, you need to start out with a plan – and the right equipment. Invest in some high-quality containers that will have your back. Whether you choose glass or plastic, make sure you go for containers that are leak-proof, oven-/microwave-/freezer-safe, fit for your dishwasher and easy to transport. If you are looking to make an environmentally friendly choice, there are good reasons to use glass containers The biggest counter-argument for you may certainly be weight. If you choose to partly use plastic, for example by reason of easier transport, opt for BPA-free containers.
Next, pick the meals you want to prepare, whether it's go-to recipes or new dishes you researched online. Make a list containing what you are planning to prepare for breakfast, lunch, dinner and snacks in between and head to your favourite grocery store. Sundays and Wednesdays are big meal prep days for most people but pick whatever days work best with your schedule.
Most importantly, find a meal prep routine that suits you best and don't get frustrated if it takes you some time to figure it out.
Image by a_namenko/iStock