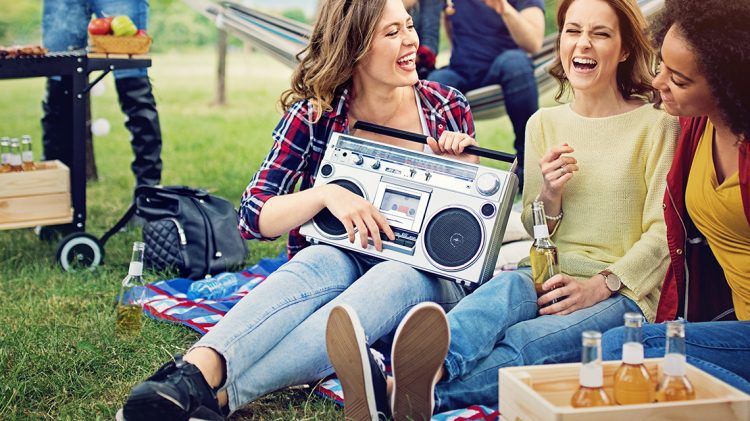 Perfect
Parc Picnic
Playlist
Get ready for the outdoor season
March 9, 2019
Get ready for the outdoor season
March 9, 2019
Spring isn't quite here yet

but with the right music you can get into the right mood for the days outdoors. Here are some great songs to start with so get out there and start this year's very first

chillout session!
1. Crystal Fighters – Champion Sound
The London-based boys created a unique sound with elements of folk, pop and never fail to surprise us by incorporating south American flute sounds or catchy off beats into their songs. We love 'Champion Sound'!
3. Kuwada – Starlight
Close your eyes and start your dream trip to Honolulu, where the 'Tropical Soul Brothers Duo' (their self-description!) bless us with these sweet tunes of heavenly voices and jeez! these beats – somewhere between hip hop, R'n'B and Latin!
5. Feist – Limit to your love
We all remember what a huge hit it was in 2010. Wow, so many artists remixed or covered it but isn't the original version just the best? On a spring day in a parc Feist's wonder song puts a huge smile on your face! Fun fact: did you know Chilly Gonzalez is co-author of the song?
7. Bobby Hebb – Sunny
This classic simply belongs in every playlist made for a sunny day! After its release, Bobby's hit "Sunny" occupied the first ranks of the charts for weeks, brought him to the sunny side of life, and as a result he was invited to tour with the Beatles. Well, the 60's…
9. Session Victim – Hyuwee
The first thought that came to mind, when listening to "Hyuwee" for the first time? Cool! A little House music, some synthies and the soft voice of Session Victim. What a pleasure: danceable and calming at the same time. The soundtrack to enjoy spring with your new fling? Definitely!
11. Emiliana Torrini – Big Jumps
Aww, this encouraging sweet song is a call for you to make some big jumps! Emiliana had us with the line "Hey there, sunshine. Lift my heart. I know life is long but it goes so fast." And it really shows that Emiliana Torrini is much more than a "Jungle Drum"-hit-wonder.
13. Maribou State – Steal
The English music duo Maribou State's first release was the five-track EP "Habitat" and since then, they didn't fail to write grand hit after grand hit. Their most successful album "Portraits" (2015) is a collection of pure joy!
2. TLC – Waterfalls
Alright, alright this is sooo oldschool but honestly, it's timeless, isn't it? Tender Loving Care was founded in Atlanta in 1991. It's a great song to sing along, so make it a challenge: who remembers the lyrics?
4. UMI – Butterfly
UMI might still be a true inside tip, there is no official homepage – yet! When we first listened to her sweet young voice and the simplicity of the harmony, we were speechless. She is a real talent and if we were a fortune telling crystal ball we could foresee the many concerts she will give all around the globe!
6. Hindi Zahra – Un Jour
This song feels just like lying on the shore of the river Seine in Paris, non? Mais ouí! Hindi Zahra is a Franco-Moroccan singer, well known ever since her first singer songwriter album "Handmade" was released in 2010. "Un Jour" is the fourth song of her second album "Homeland." Quelle bonheur!
8. Easy Giant – Comes the Light
Ouuhhh! Listen to these funky chords and get lost! California sound at its best. Chris Emmington, the man behind the tunes, loves the mountains and loves snowboarding. The roots of his music are 60's Soul, Blues, and Jazz. He plays most of his instruments and is a producer himself. Tune up 'n shake ya booty!
10. Kaikane – Fly me to the Moon
We want the Hawaiian sound back but with a familiar melody! The picnic is over, food baskets are empty, and the sun is slowly setting? Time to guzzle down a few tropical cocktails with your pals and move your hips. If you can't get enough of Kaikane, he also covered "What a wonderful world" flaunting his Ukulele skills.
12. Bill Withers – Lovely Day
Another classic and an evergreen – it never gets old! Bill's first hit was "Ain't no sunshine" in 1971: still covered and sampled by many artists. In 1977, "Lovely Day" was released and turned out to be a huge success, too. Bill Withers just got those romantic deep-hearted love songs down and "Lovely Day" should not be missed for a springy day in the parc!
Have fun at the park, peeps!
Image by praetorianphoto