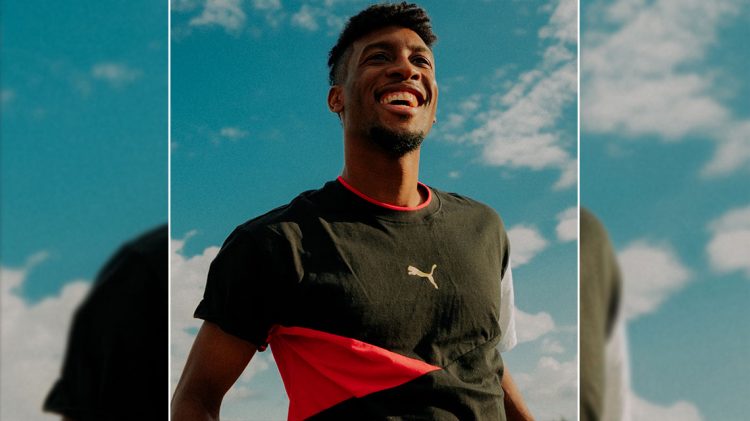 ONLY SEE GREAT
It's all
about energy
'Only See Great' Interview with Kingsley Coman
September 3, 2021
'Only See Great' Interview with Kingsley Coman
September 3, 2021
French national team player, FC Bayern München star and PUMA athlete
Kingsley Coman

is a leader of his generation. He caught the world's attention with his

exceptional speed, dribbling style and agility.

Playing for several big clubs, shooting decisive goals and winning major trophies, the 25-year old winger is just unstoppable. As part of our "Only See Great" campaign, he spoke to us about what motivated him most during his career, his definition of greatness and how he handles mistakes.
What does greatness mean to you?
Kingsley: For me greatness is is to be fully committed to what you are doing and to be able to give your best. When you really give your best,
this is when greatness starts. 
Can you recall the key moment when you first felt you had achieved success?
Kingsley: It was my first game as a professional football player. I was almost 17 and when I went on the pitch, it was the first time it felt "real". I dreamed about becoming a professional football player since I was a kid and it was amazing to stand there and realize that I made it. 
What mistakes have you made and what have you learned from them?
Kingsley: I haven't made any (haha).  I really don't remember a big mistake, because I think mistakes are an important part of the learning process. You'll reflect and try to do even better and you will become better in the end. Someone who never makes mistakes, never learns how to fight and how to stand up again. But there is no one big mistake that I'd say "I wish I could turn back time to undo that". 
What has been the greatest moment in your career so far?
Kingsley: The goal in the Champions League final.
Who motivates you to be great at what you do?
Kingsley: I would say my dream has always been to be who I am today. I gave everything to be able to be in this position. But when I think back to all the hard times that I had during this journey, I remember that I have always been extremely focused and knew exactly what I wanted. That was what motivated me the most.
Is there a person that motivates you?
Kingsley: Definitely my family and my close friends because they always believed in me. They did everything so I can be in a good situation. Now I want to give back as much as I can.
How important is it to keep a positive mindset when striving for success?
Kingsley: I would say it's one of the most important thing to always be positive, always try to see the best side of everything because when you're positive, it brings good things to you. I would say, it's all about energy. So being positive is really important.
What would you like to achieve in your career going forward?
Kingsley: I would say keep going and try to win trophies every season. I am also looking very much forward to the World Cup and playing for the national team again.  
Who do you contact first after a major win?
Kingsley: My brother, he is the first one I call.
What do you do after a football game?
Kingsley: I rest, watch Netflix, I listen to music a lot. And I spend most of my time with my family.
Do you have a favourite German word? 
Kingsley: "ungeduldig" (haha). The first time I heard that, I really thought it is a very funny word. And the meaning of it (impatient) describes me sometimes.
What is your favourite food? 
Kingsley: It's Chicken Colombo, a dish from Guadeloupe.