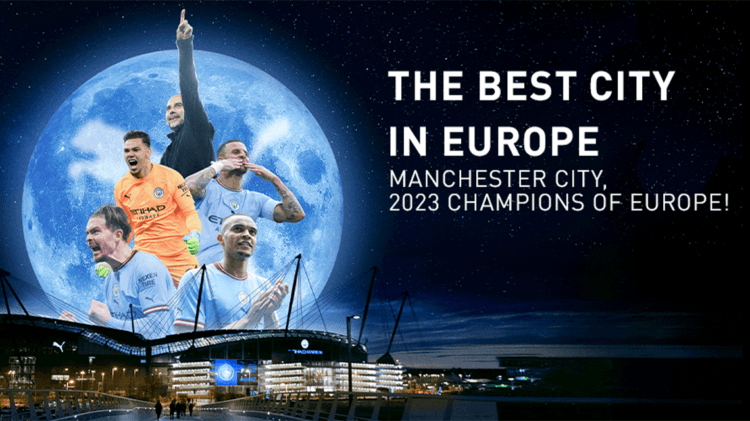 Manchester City Secures
Historic Champions League Victory!
They did it!
June 12, 2023
They did it!
June 12, 2023
PUMA Team Manchester City emerged triumphant in the highly anticipated Champions League Final held last Saturday. The whole PUMAFam is proud of you, congrats, Citizens 🩵🎉! 
The exhilarating clash between Manchester City and Inter Mailand took place at the Atatürk Olimpiyat Stadium, setting the stage for an epic showdown. Manchester City has been a strong contender in the Champions League, making appearances in the tournament 13 times. While they have reached the semi-finals and finals on two occasions each, clinching the ultimate victory had eluded them—until now.
The match unfolded in a rather slow first half, where both teams did not really get to speed. ManCitys Rodri changed that and scored after the break in the  68th minute, but following chances on both sides were keeping fans on the edge of their seats until the final whistle. In a memorable encounter, Manchester City emerged triumphant, securing a 1-0 victory over their opponents and completing the English football treble.
View this post on Instagram
We are honored to partner with a team that consistently pushes boundaries, embraces challenges, and showcases the true spirit of competition. The PUMAFam celebrates this historic win, proudly standing behind Manchester City as they etch their name in Champions League glory.
Congratulations to the entire Manchester City team on this monumental achievement 🏆!
Your triumph is an inspiration

to us all, reminding us of the spirit that drives us

in the pursuit of FOREVER.FASTER.