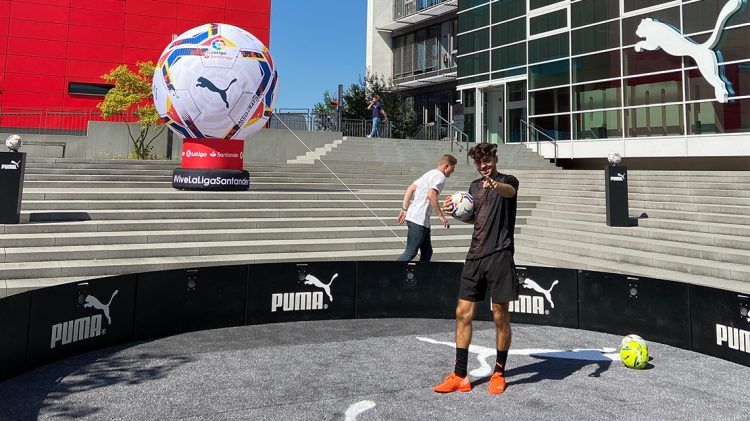 LaLiga
x
PUMA HQ
LaLiga celebrates the start of the 2020-2021 season in Herzogenaurach
September 9, 2020
LaLiga celebrates the start of the 2020-2021 season in Herzogenaurach
September 9, 2020
We like what we see!
LaLiga celebrated the start of the 2020-2021

season in Herzogenaurach with a blue sky, an oversized PUMA LaLiga Ball, ice cream and football freestyle.

The weather was as good as in Spain – on a sunny day at the PUMA headquarters, we celebrated the LaLiga kick-off. Employees were invited to test their football skills in the Skill Arena. To cool down, an Ice Cream machine was up and running. We also invited a real artist at the ball – football freestyler Marcel Gurk delighted us with his tricks in front of a huge LaLiga Ball.

All LaLiga matches have been played with a PUMA matchball since the 2019/2020 season, meaning all goals in one of Europe's hottest competitions are scored with a PUMA ball. On display in Herzogenaurach we saw an oversized "Accelerate" ball, as well as the bright yellow "Adrenalina" ball, which is used in special matches such as "ElClásico" between Real Madrid and Barcelona.

Football action in Spain kicks off again on Friday, September 11.