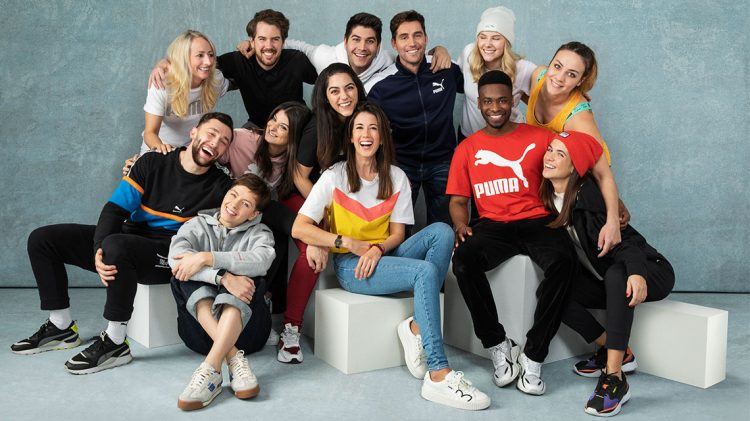 Record Sales,
Record EBIT
& Record Growth!
It's official: Stellar 2019 performance makes it great to be a PUMA
February 19, 2020
It's official: Stellar 2019 performance makes it great to be a PUMA
February 19, 2020
2019 wasn't just a good year to be a PUMA. It was
GREAT

! We not only met, but exceeded our goals, working hard to

move our organizations and the company ahead

, and today we can proudly say,

it paid off

!
In 2019, PUMA continued to work hard towards our ambition of becoming the fastest sports brand in the world. To further strengthen our sports performance positioning we entered into many new partnerships with internationally renowned football clubs and increased the brand's visibility at key sports events globally through great performances of our sponsored athletes and teams.
PUMA has set out six strategic priorities: brand heat, a competitive product range, a leading offer for women, improving our distribution quality, organizational speed and building our sports performance credibility in the US through our re-entry into Basketball. And beyond that, there are tons of exciting projects we want to share with you, so read on!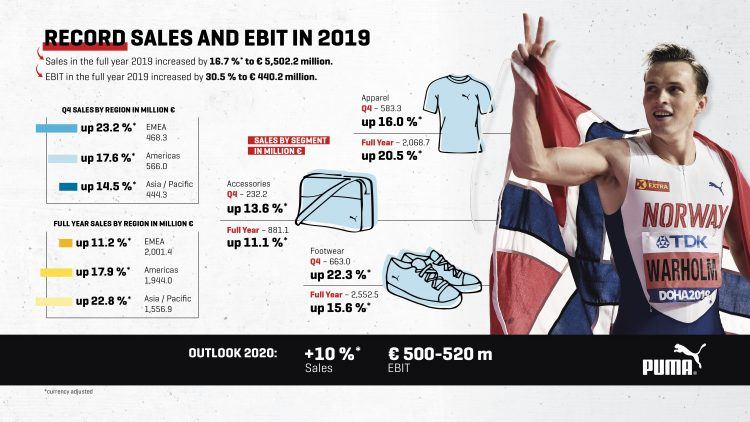 Spotlight on our Business Units
In our Teamsport category, 2019 started with a big announcement, as we launched our partnership with Manchester City in February. This deal is PUMA's largest ever, both in terms of scope and ambition. We were also excited to welcome Pep Guardiola, one of the most celebrated football managers in the world, as a brand ambassador. In Spain, we signed Valencia CF, one of the most respected clubs in Spanish football. We also became the official match ball partner of Spanish football league LaLiga Santander and LaLiga 1|2|3. All goals in one of Europe's strongest professional football leagues are scored with the PUMA LaLiga 1 football.
PUMA is now in the position to have a title-contending presence in all major football leagues and with the national teams of Egypt and Morocco recently joining the PUMA family, we now sponsor twelve federations. One of the highlights of the football year was the Women's World Cup in France, during which PUMA sponsored team Italy and 78 PUMA players ensured high visibility for the brand. Our PUMA teams and athletes were also successful in other teamsport events around the globe such as Handball, Netball, Australian Rules Football, Cricket, and Rugby. The World Athletics Championships in Doha were an important event for our track and field athletes. PUMA was highly visible during the competition, as we supported a total of 115 athletes and twelve national federations. Norwegian hurdler Karsten Warholm successfully defended his title over 400m hurdles and was later voted European Male Athlete of the Year. During the competition 22 medals were won by athletes wearing PUMA.
In June of 2019, PUMA signed rising pole vault star Armand "Mondo" Duplantis, a partnership that already proved very successful. The US-born Swede broke the world record twice in early 2020, most recently setting it at 6 meters 18 at the World Athletics Indoor Tour in Glasgow.
We also welcomed new partners in Motorsport, signing a long-term agreement with Porsche as well as a separate collaboration with Porsche Design to create premium lifestyle products. Our Formula 1 teams Mercedes AMG Petronas, Scuderia Ferrari and Aston Martin Red Bull Racing once again dominated the Formula 1 season, where PUMA further expanded its leading presence by becoming the official trackside retail partner for F1 race weekends. Our brand ambassador Lewis Hamilton was crowned Formula 1 Champion for the sixth time. PUMA also partnered with W Series, the first racing competition for upcoming female talent in motorsport. In our Golf category, we celebrated the 10-year anniversary with golf ambassador Rickie Fowler, one of the most vibrant ambassadors of the brand. The latest addition to our roster of golf players, Gary Woodland, won the US Open in June.
In our first full NBA Basketball season – after our return to the sport in 2018 – Toronto Raptors shooting guard Danny Green was the first PUMA athlete to win the NBA Finals since Isiah Thomas in 1990. With the support of JAY-Z, our Creative Director for basketball, we continued to launch additional performance basketball shoes including the UPROAR and the CLYDE HARDWOOD. We also signed new highly talented NBA players such as RJ Barrett (New York Knicks), Kyle Kuzma (Los Angeles Lakers) and Marcus Smart (Boston Celtics). Our products were very visible on court throughout the NBA Season, the All-Star Game, the Playoffs and the NBA Finals. Only last week, we also signed a multi-year partnership with Grammy-winning recording artist J. Cole, a brand ambassador who combines basketball, fashion and music culture.
Footwear Styles
One of our most successful Footwear styles in 2019 was the RALPH SAMPSON, a classic basketball silhouette. This shows that were are generating credibility in basketball, which we leverage into other categories. In the "chunky"-shoe category, the RS-X-franchise continued to resonate well with our customers. The CALI franchise, presented by PUMA's ambassador Selena Gomez, continued to do well within the women's lifestyle category. Other key styles included the PUMA FUTURE football boot and running & training shoes based on our LQD CELL and HYBRID technology platforms. In the fourth quarter, we launched the RS-X3, CALI SPORT and the RIDER, which is inspired by one of the jogging shoes launched in the 1980s. With these models, we see ourselves in a good starting position for 2020. Our women's brand ambassadors contributed with individual collections in 2019: Selena Gomez launched her second collection. Cara Delevingne teamed up with PUMA and French luxury fashion house Balmain, while Adriana Lima presented a line of boxing inspired styles. Overall, we saw strong growth across our Apparel portfolio, especially from "Big Cat" logo applications and motorsport.
In other news…
As esports is becoming increasingly relevant for our consumers, PUMA announced its first-ever partnership in virtual sports with eSports team cloud9. We also for the first time created products specifically around the needs of eSports athletes and gamers, such as an active gaming seat and gaming shoe. Through these partnerships, we are in a position to benefit from the fast-growing gaming and eSports markets.
Our first smartwatch launched in partnership with Fossil Group and Qualcomm helps athletes train, stay motivated, track goals and connect with others while on the go.
On Target on Sustainability
In addition to our business priorities, social, economic and environmental sustainability remains a core value for PUMA. In 2019, we already achieved 9 out of our 10FOR20 sustainability targets and developed our next set of targets for 2025, which will be announced in 2020.
So yes, it is in fact, a good – no, GREAT – day to be a PUMA. The future is very, very bright. And it's ours for the taking.