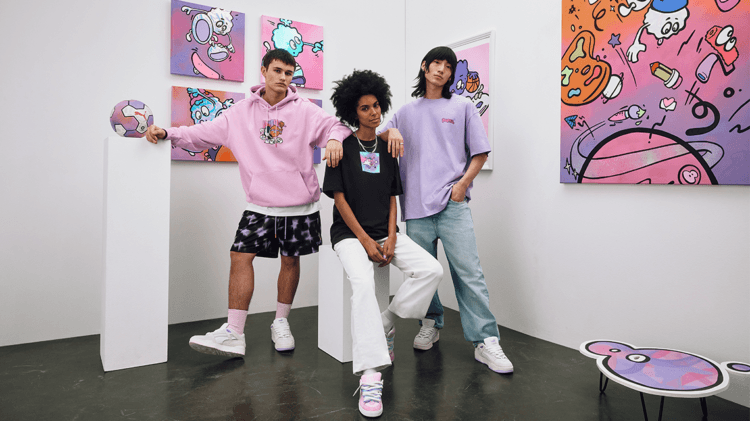 "Colour can really empower you"
Interview with PUMA Designer Benjamin Lamprey on his PUMA x 8enjamin Collection
May 31, 2023
Interview with PUMA Designer Benjamin Lamprey on his PUMA x 8enjamin Collection
May 31, 2023
The spotlight shines on PUMA's designer
Benjamin Lamprey

as he launches his own collection:

PUMA x 8enjamin.

The new collection boasts pastel colours and skateboarding aesthetics in a way that reflect's Benjamin's own personality. The main character of the collection –

Fluzz

, a sneaker-loving pastel cloud – appears throughout the collection. CATch Up had the opportunity to chat with Benjamin on his work with PUMA and the inspiration behind his designs.
Can you tell us a bit about yourself and how long you have been working for PUMA.
Benjamin: I have been with PUMA seven/eight years now… still excelling at German language…not!
Puma is the first company I felt I can really truly be me, I feel so at home here. It hit the real sweet spot for me between creativity and sport, and on top of that I was able to dress the way I do and everyone was so accepting and open.
All aspects of the environment here encouraged me to push myself to be better. For example in designing – I am designing with the partners to create new and disruptive designs, in sport there are incredible sportspeople here so I always pushed myself to play and compete with them too. I love this environment.
What does a normal day look like for you?
Benjamin: I try to have a routine. In all honesty right now it's quite a lot: we have a ton of projects, and all are pretty demanding so the routine is a bit out of sync. Generally, I am normally an early bird: I like to get to the office around 7:30, get some stuff done (if the weather is nice then I cycle – which is amazing) then I work until lunchtime. Generally, I do sport at lunch (workout/football) which for me is super important as it breaks up my day and I feel like I have 2 days in 1 and it completely resets my focus for the afternoon / evening. I work until 6ish, head back home and then it's my creative time. If I don't have work to do for PUMA, then I would just focus on my own stuff. But generally, this is the time where I am the most creative. The blessing is I just love exactly what I do.
What is your favourite part of your job?
Benjamin: To be honest, there are so many really cool parts of the job. But I have to say for me, it's meeting and working with the different brands and partners because they all have different approaches to design and challenging the status quo. I love to tap into their vision and work with them to push that vision, whilst at the same time keep moving our brand forward.
Why the 8 in 8enjamin?
Benjamin: It was just a very simple solution to coming up with a brand name! I was born in 88, my name begins with B which looks like an 8 so just thought it kind of made sense. It was actually my first tattoo. I guess the other thing I should mention is – I still pronounce it Benjamin – not like eightjamin or something weird super difficult to say.
What inspired your collection? What defines it?
Benjamin: My whole expression, all of my art, is an expression of colour. Me, my art, the way I go about life, everything I do tries to express as much colour, or the colours I like the most, as possible. I always tend to use the same colours because for me, they are so empowering. I would turn up to football or skateboarding, wearing pink or purple, wearing the same pastel colours, and people would think I was a bit of a weirdo. But somehow, this was just me and I was so comfortable with it. I want to capture how colour can really empower you. I now ask myself, what colour I am for that day and that is how I go about my day. If I am tired, maybe it is dark blue. But generally, they're shades of pink or lilac and then I'm in a very good mood. Colour is the main thing.
I also have my character Fluzz who is telling my story and skating through this colourful imagination, this world that I imagine. In this world he meets the shoe box, which for me is such an iconic part of PUMA, and basketball and football: it's trying to capture all PUMA sports meeting my colourful world.
What was the most challenging part of designing your own collection?
Benjamin: I would say the most challenging thing was to try and see the whole 360 process, from marketing to the shoes to the accessories. Somehow, in my head it made sense but once I physically had to come and do it, I was definitely overthinking – is this the right thing?
I put so much pressure on myself. It is an incredible opportunity so I just wanted to make sure that I could get the most out of it and express the best of me. I really didn't want it to be a colourup of a shoe that everyone knows – I wanted to make my own. The shoebox, I wanted to make my own. It was great to have the opportunity to design the whole shoe box.
How was it different to design your own collection from designing 'normal' PUMA collections?
Benjamin: When I'm designing normally for PUMA, there's a lot more requirements and review stages, and a lot more external factors influencing the process. But with this, there's a chance to express purely what I as an artist wanted to portray. There was a lot less, let's say, external factors or pressure to deliver what has been sold previously or what the markets require. There was a bit more freedom I guess.
How long have you been working on this collection? How long does it take from inspiration to having the actual garments in stores?
Benjamin: The conversation started around August 2021 and the project was finally confirmed around October 2021. The designs were already done and confirmed before Christmas because this is an incredible opportunity and something I am so passionate about. Then there are two rounds of sample review including accessories and the shoe box. And then it kind of goes quiet for six/seven months. Then the beginning of this year, it was all focussed on the marketing. How can we make it come to life? I was way more involved. Now this week is a bit manic because it's in the store, I'm seeing the final products, and we are going to have an activation in the HQ canteen.
We heard that the little squishy fella is called Fluzz, do you want to tell us more about him/her?
Benjamin: Fluzz is a he! There is a bit of a deep meaning. Basically, I am so obsessed with fashion, skate and the street world that I was always drawing a lot of skate adverts and brands all the time. And it was becoming very reactive, I was always drawing and putting my own twist on the latest sneaker, the latest hoodie, latest campaign etc. And then I realised it was quite sad because I don't have my own kind of expression – so then I created Fluzz. He has no clothes and he just has huge bubbly shoes that are a nod to my love towards old skate shoes.
I have always loved fluffy and glittery/sparkly textures, so Fluzz is basically a fluffy cloud with huge skate shoes! And he can be whatever colour I'm feeling that day. In my art he is normally an iridescent colour or sparkly colour as they are to me the most exaggerated forms of colour.
Fluzz's shoes were also unsponsored at the beginning: they were just huge bubbly sneakers with fat laces. Now he got his first sponsor…..PUMA!
Has there ever been a black Fluzz?
Benjamin: No – the day there is, it will be a very dark day!
What is your favourite piece from the collection?
Benjamin: To be honest, I don't know if I can pick just one! It's really hard to pick a favourite piece. I have literally been living in the whole collection for like six months and I can wear every piece, so it's really difficult.
But I think if I had to….it would really be the shoebox. For me, the shoebox is something that is such an iconic part of the whole sneaker world. I tried to make it a collectible and a toy, and I really believe it could be one of the first of its kind – as a collectible toy shoebox. I am just super happy because the colours are beautiful: it's got the fold out sneakers, it's got this iridescence effect, it's got the cartoon eyes and it's a really nice summary of the whole project. I put as much time and effort into it as the rest of the collection and I really wanted people to showcase it in their homes.
As an artist, what is the story that you want to tell – is there a special message you want to convey with your art?
Benjamin: It is definitely empowerment and positive energy through colour.
I think for me, growing up and going to school in a uniform, it felt so special when I could pick my own clothes. I would normally pick something that was pink or way more vibrant than my navy school uniform. It felt way more natural for me to wear colour and made me feel so free. It empowered me. It was the same going to the skatepark, turning up to hockey or anything. I would always wear bright clothes, sometimes with glitter / sparkle. I guess it always had a more feminine feel or had other associations at that time, and I really hated that. It made me have to prove that I can belong in these places too and I don't believe people should have to feel like that.
I use my art to create an uplifting, powerful world/space where you can be you. You will find Fluzz skating through this world and creating his own path as a nod to enjoying the moment.
The colour message goes beyond my art, I tell myself what colour I am for the day, or what colour I am for a meeting. It really helps and to navigate the way I go about my life. I can transform my mood and change situations by reflecting on the colour I see at that moment. The first question I ask my wife when we get into the car is, what colour have you been today?