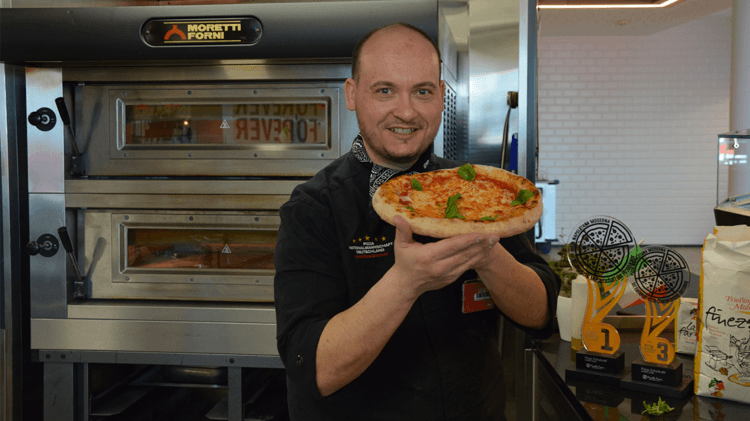 GERMANY'S BEST
PIZZA MAKER
Interview with Maurizio de Giacomo, Chef and Pizza Maker at PUMA's HQ
March 27, 2023
Interview with Maurizio de Giacomo, Chef and Pizza Maker at PUMA's HQ
March 27, 2023
First in Germany, third in Europe –
Maurizio de Giacomo

is one of the best pizza makers the world has to offer. With his "Napoletana Moderna" he did not only convince the judging panel, but he also won the hearts of the PUMA employees in Herzogenaurach.

CATch Up talked with Maurizio de Giacomo, chef and pizza maker at PUMAs HQ canteen, about the championships, the perfect pizza and – most importantly – his secret ingredient.  
Congratulations on your amazing achievements! How does it feel to be one of the best pizza makers in Europe – the best in Germany? 
Maurizio: I still cannot believe it. I was so surprised, even speechless. My colleagues slapped me on the back when I won. It was a crazy feeling. 10,000 emotions all came up at once: luck, happiness, surprise, absolutely everything. I am happy for all of us. Even though it was me who won, I won for everyone. I brought the victory home to PUMA. 
What are you prouder of: first place at the German or third place at the European Championships? 
Maurizio: To be honest, the third place at the European Championship because the competition was tougher. It was very international. There were Italians, Austrians, Swiss, Romanians, French. Even real Napolitanas took place. Some of them were trying to impress. They were all aiming at me, even my team said they were looking at me angrily because they of course found out what happened the day before: that I am the German champion. But I was relatively unimpressed by their intimidation because I said to myself that I am here to have fun. 
Were you not afraid of failing? 
Maurizio: No, all I hoped for was to not be last. I also wished all the other participants good luck, which surprised them. Is he crazy? He is competing, he should concentrate. But instead, he is coming to us to wish us good luck? Weird. 
What exactly are the judges evaluating? 
Maurizio: In the evaluation, absolutely everything is considered. There were seven judges, five of them were evaluating our presentation: optics, taste, the dough above all. Furthermore, everyone has two referees who evaluate the course of action: your hygiene, the hygiene of your clothing, if you are shaven or unshaven, jewellery – I even took my wedding ring off. You also needed head covering, neck covering, chef pants and cooking shoes. They are really strict.  
Next, they evaluated how you worked at the table, how clean you left it – and if you were on time. You had 15 minutes. You could make two pizzas, one of them as a trial pizza, to test the oven for example. However, I laid everything on my first card. There were two ovens, one with 370 degrees Celsius and the other with 420/430 degrees Celsius. Everyone was afraid of the latter. Apparently, I was the first to use the hotter oven. And it worked. The pizza came out amazingly. 
Lastly, they wanted to hear a bit about the pizza, some history.  
Who did you dedicate your pizzas to? 
Maurizio: I dedicated my pizza at the German Championship to my wife. This is why I called it Margarita Seda. The European one I dedicated to my godchild, who gave me my lucky charm – a small Pulcinella. I had it with me during both competitions and even put it on the plates when presenting the pizzas. 
Was this your first competition? 
Maurizio: The second. I am the team leader and coordinator of the German pizza maker national team. Moreover, I am part of the German pizza school. I am really proud of this school. It is the first and largest pizza school in Germany, where we offer courses, demonstrations and gastronomy courses.  
What makes a perfect pizza? 
Maurizio: Simplicity. There are only five important ingredients: flour, water, salt, yeast and love. That is what every dough needs! Love! I could put the recipe in front of you and I am sure you would not be able to get it right. It all has to do with experience, with how you put the water in, how you deal with it, the sound of the dough, the temperature of the dough and so on. There are many factors, many types of ingredients. For example, time invested – good pizza dough needs a minimum of 24 hours. Pizza is not the type of food you can create in an hour. It needs time.  
So, is love the secret ingredient? 
Maurizio: Yes, and passion! You must never forget the fun and the passion. When I bake and cook, my eyes light up. I have so much passion for it.  
Who taught you how to make pizza? 
Maurizio: My dad, Papa Toni! He has been a pizza maker for a long time. He used to have his own pizzeria for 30 years. I also had my own pizzeria until 2022, Pizzeria Maurizio, but now I have my own catering business and two food trucks.  
What is your favourite pizza? 
Maurizio: For me the pizza margherita is the queen. Or salsiccia e friarielli with Italian sausage. But if I ever want to try a pizza somewhere, I always get a margherita. That way you can taste if the pizza is good: The dough, the sauce, how the mozzarella is. It must be white. If it is burnt, it is not good quality.  
We could not be happier to have Mauro as part of our PUMA Fam. ❤️ 🍕