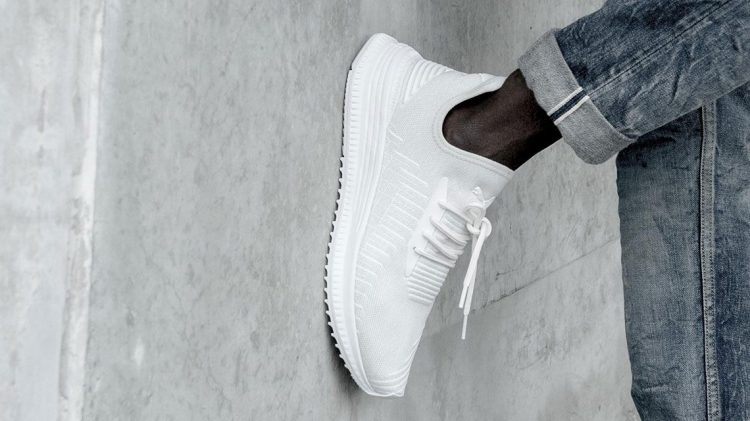 Yes, you can put
your sneakers
in the washer!
How to keep your sneakers shiny and new
May 29, 2019
How to keep your sneakers shiny and new
May 29, 2019
We all love sneakers. And we wear them a lot. Hence, sooner or later the day will come when they will not look new anymore. That's when the question comes up:
Washer yes or no?
Torsten Hochstetter, PUMA's Global Creative Director, told us how to make our sneakers look new again. And yes, you can put them in the washer, at least most of them.
We need to differentiate between three different materials the upper is made of:
1. Sneaker Uppers made of knitwear and woven materials
"Uppers made of knitwear and woven materials get perfectly clean in the washer. Just make sure to wash them together with other textiles so that they won't knock about in the washer during the spin cycle," Torsten said. At a temperature of 86°F (30°C) the sneakers will look as good as new again. The washer doesn't affect the sole and the glue. "The Materials we use have a long life cycle and the sole can withstand very high temperatures, as it is glued on to the upper at a temperature of over 200 °F (100 °C)." Only the sockliner should be taken out before you put your sneakers in the washer. "Most sockliners are very thin and sensitive due to our cushioning system. They must not get too hot and should be washed by hand."
After you've washed your sneakers, let them air dry to make sure they stay in shape.
2. Sneaker Upper made of Leather
Sneakers made from genuine leather are an exception: They should not be put in the washer as the leather should not soak up too much water. "Like other leather shoes as well, such sneakers should be cleaned with a brush and shoe polish. Leather becomes brittle if it absorbs too much water," Torsten explained.
3. Sneaker Uppers made of Synthetics
Shoes made from synthetic material can easily be cleaned with soap and water. The material is naturally dirt-repellent, like that of our football boots for example. A sneaker made from synthetics and knitwear should also be cleaned with water and soap only.