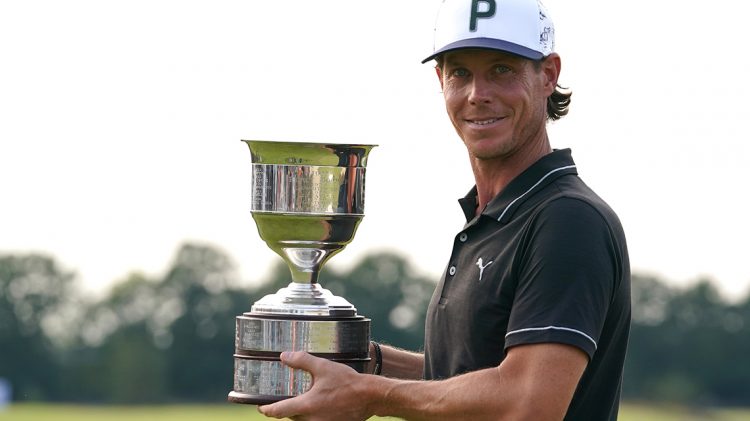 A battling
victory
PUMA Golf: Kristoffer Broberg wins the Dutch Open ahead of Matthias Schmid
September 20, 2021
PUMA Golf: Kristoffer Broberg wins the Dutch Open ahead of Matthias Schmid
September 20, 2021
What a victory! PUMA Golf athletes celebrate an emotional first and second place at the European Tour. After a nightmare run of injuries, Kristoffer Broberg claimed his second European Tour trophy on Sunday at the Dutch Open. Kristoffer won the tournament with a three-shot victory. PUMA athlete Matthias Schmid went round in an impressive 66 to finish second on 20 under par.
Kristoffer´s victory had looked like a formality after he began the day eight shots clear of the field but the 35-year-old Swede struggled for rhythm, making bogeys on the third, 12th and the 14th holes to finish 23-under for the tournament.
PUMA athlete Matthias Schmid looked set to catch Kristoffer Broberg but a double bogey on the par-3 13th cost the German dear as he ended with a 6-under 66 to finish second.
Watch Kristoffer Broberg ⛳️:
View this post on Instagram
"I'm happy right now, but the game wasn't there today. I was struggling all day and never felt comfortable over the ball. But I'm happy to have pulled it off. The chip-in on 12 was great but it didn't really change my momentum. I hit a bad 3-wood into water on the 14th. But I made a great up-and-down on 15. I was so happy with that. Then I made a putt on 17. This means so much …", Kristoffer explains.
Congratulations from the whole PUMA Family!