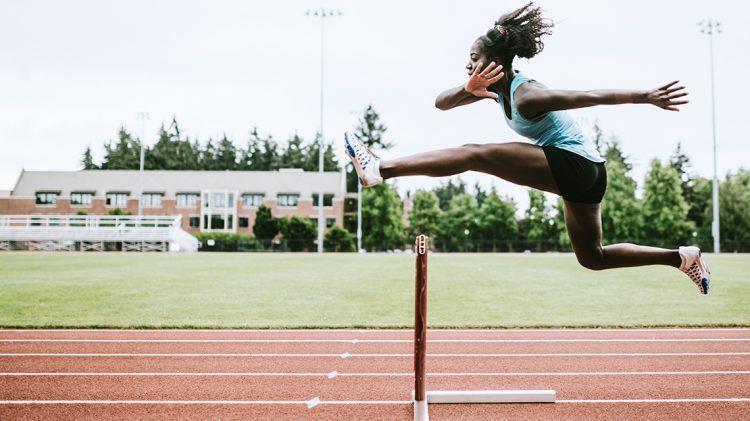 Get out
of your own way
Identifying barriers and making change to boost performance
April 18, 2019
Identifying barriers and making change to boost performance
April 18, 2019
Have you ever let self-doubt get in the way of performance?

Or been close to hitting your target only to slip back into bad habits? Have you ever given up on a goal and justified it with a sketchy excuse?
Maybe you can relate to one or to all three of these questions. The fact of the matter is that this
pattern of self-sabotage

will most likely continue until you

get out of your own way

.
"Getting out of your own way" is a simple concept but that doesn't make it easy. It often means letting go of ego, fear of failure, self-doubt and external approval. It means becoming vulnerable, owning feelings of inadequacy and weakness because only then can you start to become stronger. Getting out of your own way is understanding that you are imperfect and that is a part of being human. When you embrace imperfection and work without restraint towards becoming your best self, that is personal performance at it's best.
To start removing barriers to your performance ask yourself these questions:
What is it that you really want to achieve?
What is the barrier to making this happen (a thought, a habit)?
What do you lose by standing in your way?
Is it tied to another habit?
Especially the last question is crucial, to tackling the barrier. You have to be honest to yourself. Do you only eat poorly when you miss the gym? Do you drink excessively when you are stressed? If this is the case you will need to address the underlying barrier first.
If you are finally ready to tackle your barrier, we have compiled a list of 5 steps to get out of your own way and improve performance:
Explore your barriers.
It can be difficult to see outside yourself. Therefore, it can be useful to seek professional help to unpack the root cause of your barrier. Psychologists have amazing tools to enable you to dig deep and begin to create sustainable change.
Accountability.
Sometimes it can be as simple as enrolling someone to keep you on track. If you already know the change you want to make then enlisting the help of a quality nutritionist, personal trainer or coach can be a really easy win.
Make it real.
Give yourself something to work towards that both scares you and is unavoidable. Choose something that is big enough that you couldn't achieve without breaking through the barrier. Eg. A race, performing on stage, delivering a workshop or a professional photoshoot.
Make it social.
Studies show that we are the average of the people we surrounded ourselves with. Not just our immediate circles but even (surprisingly) friends of friends. Be active in deciding of who you spend your time with. Surrounding yourself with people who support or embody this change already; people who live everyday in a way that you are wanting to live, reduces the external resistance to the change. It also makes it harder to stay the same, than to get out of your own way.
Make the positive behaviour the easy behaviour.
Remove daily temptations that lead to self-sabotage. For example; make your training location and time fit easily into your routine. Choose times at which no external excuses can get in the way. Most people find mornings work the best here because the chance of being booked out for a meeting or social event is much lower.
As a personal trainer, I have noticed that people are very quick to point the finger at others as the reason that they didn't, can't or won't achieve. It's such an easy cop-out. Blaming others gives us a way out without dealing with the shame, guilt and embarrassment associated with giving up. But you know what? It's not a long-term win.
To stand up and admit to being the cause of your own lack of achievement is daunting. However, it is an immensely freeing and empowering acknowledgment. Claiming your failure means you can own it, start to deconstruct what happened and then move through it.
You are more often than not the barrier to your own high performance. And the good news is, the way you act is within your control.