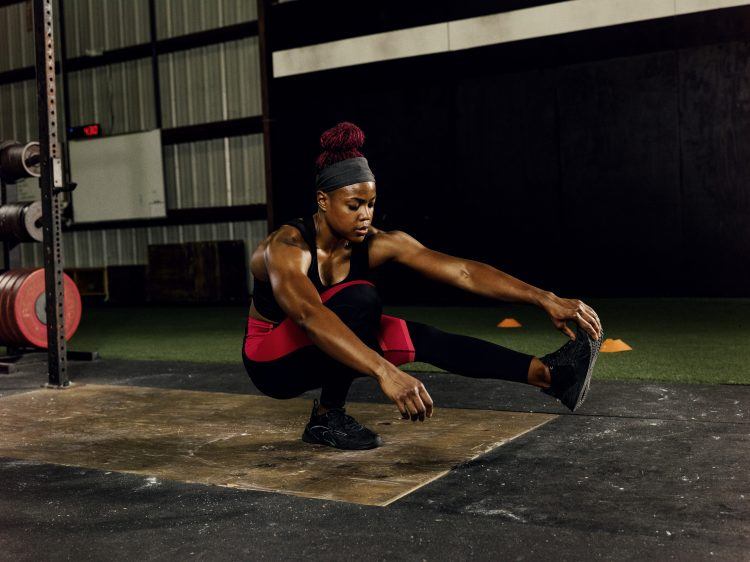 5 Mini Workouts
For When You Simply Have No Time
July 5, 2022
For When You Simply Have No Time
July 5, 2022
Staying in shape isn't about selling your soul to the gym. In reality,
keeping your body and mind truly healthy is much more about creating a lifestyle that involves regular movement and activity.

Yet modern times can move pretty fast, and sometimes we psyche ourselves out of working out, thinking we don't have enough time to squeeze a session into our busy schedules.
Mini workouts are a great way to shatter this limiting belief,
hack your exercise regime and introduce some physical activity even when you don't have a lot of free time.

Flexible, fast and efficient, with just a little bit of focus you can do them anywhere and reap the health benefits.
___
Adults are recommended to aim for 150 minutes of moderate-intensity aerobic exercise (or 75 minutes of vigorous-intensity aerobic exercise) each week to maintain optimal health. Three sessions of ten minutes would meet your daily exercise quota
Break it up
Studies have shown that micro workouts ─ breaking up a workout session into smaller, more manageable chunks throughout the day ─ are equally effective at promoting weight loss and supporting other health benefits.
The key to sustaining this type of 'exercise snacking' is to keep the challenge level fairly low so that you won't feel a mental barrier to starting the workout. You can play around with what works for you — fewer reps and more sets, or fewer sets and higher reps. Your goal is to find a solution that's easy enough that you won't put it off but that challenges you enough to get your heart beating faster. You can gradually increase the number of reps and sets as you get stronger or keep them the same if your goal is maintenance.
Benefits of Mini Workouts
You may wonder if multiple small workout sessions really make any difference to your fitness level and the answer is a resounding yes. Something is always better than nothing, and doing almost anything movement-related accumulates and adds up over time. Bite-size workouts scattered throughout your day and week can bear a variety of benefits including:
Easier to fit in a day ─ this benefit is pretty obvious, but for many people the number one reason for not exercising regularly is a (perceived) lack of time.

Mini workouts are a really excellent way to break this belief

and begin motivating yourself to workout
Get over mental hurdles ─ it's all in our head, and sometimes the resistance we have to a workout isn't about the actual time it takes, but rather about the energy it takes to gear up for it.

Hack this hurdle with many small (but efficient) bursts of activity

that nearly are finished before your mind can even begin to protest.
More likely to continue exercising ─ squeezing smaller sweat sessions into your schedule may

make it more likely that you actually stick to a workout routine

rather than dropping it altogether, and this will definitely help you hit those fitness goals.
Mood boost ─ studies have shown that even small bouts of exercise throughout the day can

help improve overall mood and mental health…

a perfect solution for combatting the stress of a busy schedule.
Physical Health  ─ regular variation of activities and exercise – even short stints like a walk in the morning, simple strength training in the afternoon and a stretch in the evening – can

ripple outwards and lower blood pressure, build muscle and boost strength.
Flexible ─ most mini workouts require

very little or no equipment

and can be modified to be done everywhere.
Appealing to fitness fans of every level ─ perhaps you're not physically ready for a 45-minute session in the gym, but

anyone can do 10 or 15 minutes of activity,

no matter what level of fitness they are at.
Reduced Risk ─ studies have shown that

risk factors of injury associated with being overweight were significantly reduced

when the excercise was performed in short, controlled bursts.
Mini Workout Examples
Finally, here are some examples of pint-sized exercise flows that you can try out for yourself. You can scatter them throughout your week, so if you would normally do 30 minutes daily you can try breaking it up into three sessions of 10 minutes. For maximum efficacy of your miniature workouts try to make sure to include strength, cardio and mobility-focused movements.
___
Mountain climbers
Jump squats
Bridge
Lunges
Rest
Repeat each exercise for 30 seconds, for a total of 10 minutes
___
30 seconds squats
30 seconds jumping jacks
10 bridges
30-second plank
10 pushups
30-second rest
Repeat 4-5 times until you have done 15 minutes
___
Cat-Cow
Chair Pose
Forward Fold
Downward Dog
Plank
Warrior 2
Child's Pose
Hold each pose for 5 breaths, and flow through as many times as you can in 10 minutes
___
Jumping Jacks
High knees
Squat Jumps
Toe Taps
Burpees
Rest
Repeat each for 30 seconds, for a total of 10 minutes
___
Perfect for the middle of a working day, taking a brisk walk or jog can also help to clear the mind and improve focus. Climb any stairs you encounter, walk up hills if you can, and experiment with your speed. Spice it up by mixing in a few squats and lunges throughout.
To wrap it up: sometimes the best way to stick to a routine and stay motivated is to break up your workout into small, bite-sized sessions.
We all face limitations in how much we can do in a day, but these limitations can become challenges rather than excuses with the right mindset.
Any and all time that you spend moving your body and staying active will add up, even if it is just one small step at a time.