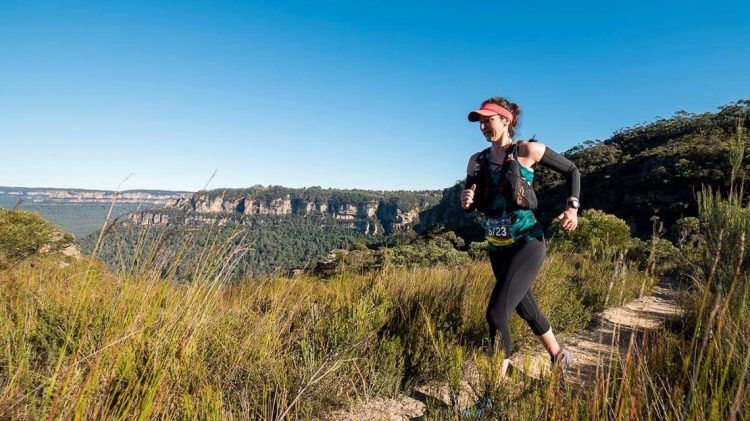 Do you have grit?
Extend you limitations
through Ultra Trail Running
Meeting pain with courage
July 21, 2019
Meeting pain with courage
July 21, 2019
What do you do when things get tough? When your body aches and negative thoughts creep in? Do you quit, or do you knuckle down and dig deep?
I am an Ultra Trail Runner and discomfort is no stranger to me. It's where I thrive and got my grit.
Sitting with discomfort and welcoming in the pain that comes with pushing through boundaries means growth. If you resist the urge to quit when pain creeps in, whether it lasts a minute, an hour or ten hours you will be a changed person. You develop a new definition of what's "normal" and raise the ceiling on what you thought you were capable of.
Every time you rise to a new challenge and overcome a mental obstacle you build grit. Every time you stare down the barrel of your perceived limit and refuse to run scared or back down you are acting with courage and developing strength of character, passion and perseverance.
In September I ran my first 100km trail race, The Surf Coast Century. The experience was unlike anything I'd had before. The hardest section for me was reaching the 50km mark, never having run further than that before in my life and realising that I needed to double that distance. I now know that there is a point in every Ultra marathon where nothing is large enough to distract you from the pain, no way to numb how you feel. At that point, the concept of finishing seemed inconceivable. But there was no way I was stepping down.
I was committed to the process of putting one foot in front of the other and understood the power of accumulative effort. An advice from experienced Ultra runner and coach Tim Locke came to my mind: "remember that when everything starts to hurt, the pain won't go away but it won't get worse". And yes, everything hurt. But I could sit with it. Acknowledging and stepping into pain allows the scales to tip and mental limitations permanently shift. This is one of the reasons I love Ultra. I was forever changed in that moment.
It was sub zero degrees, hailing and I had a solid 8 hour run ahead of me – some of which involved running over steep and slippery clay hills, stairs and sand. My knees were not happy, but quitting was not an option.
The pre-race advice from fellow ultra-runners was that "training for a 100km is not that different to training for a 50km, you just will your way through the back half." I thought that sounded impossible and potentially insane. But strangely enough I found it be my experience too. It was essentially reaching my perceived limit and then doubling it. Finishing that race was in no way about being a "blessed" runner or breezing through the kilometres, I found my grit and dug deep.
This experience is with me every day – whether in dealing with conflict, getting up at 5am or even soldiering on in circumstances that are less than ideal. It's like channelling an internal drive that I didn't realise was even possible previously.
It's willing my way through a workout I would have previously tapped out of. It's not giving up and it's knowing that each day, with a step (or an inch or heavier lift) I'll get there and you will get there too! If you can channel enough grit to not give up during the process, you will be capable of more than you could ever imagine. Stare down the barrel of your perceived limitations, hold on, put one foot in front of the other and you will find a new level to who you are.
Reach for the finish line that seems inconceivable, because when you have reached your threshold and are struggling to move forward, remember you have just hit the 50km mark and I know you are capable of a full century.