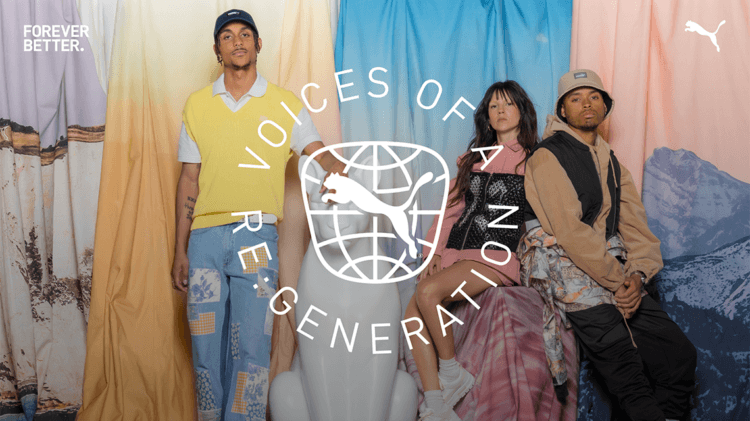 Breaking Barriers to elevate
PUMA's sustainability conversation
with Gen Z
PUMA Voices of a RE: GENERATION engage with PUMA Sustainability Leaders
August 17, 2023
PUMA Voices of a RE: GENERATION engage with PUMA Sustainability Leaders
August 17, 2023
PUMA's Voices of a RE: GENERATION are joining forces with our sustainability leadership team to
amplify relevant conversations

on sustainability and

drive positive change

.
The PUMA Voices of a RE: GENERATION are vibrant voices of the generation that will shape the future. They are a group of young sustainability influencers from France, Germany, the USA, and India who are collaborating with PUMAas part of a year long programme. They aim to educate PUMA on what their generation cares about and translate the truth behind sustainability at scale for their audience. 
The group consists of Andrew Burgess, an upcycling expert from the US; Jade Roche, a visionary artist and consultant from France; and Luke Jaque-Rodney, a German advocate for sustainability and holistic living. An additional voice will be announced soon!  
These influencers aren't experts in sustainability, or the fashion supply chain. But they do have an interest the future of our planet, the fashion industry at large. Part of this collaboration is exposing these voices to different areas of sustainability so they can offer valuable opinions and views. 
WHAT

'S BEHIND THE INITIATIVE?
These voices have a crucial role to play in educating PUMA. Through constructive dialogue the voices are feeding into how PUMA can drive greater sustainability practices, in line with our 10FOR25 targets. Their work is taking on an honest and candid consultancy format, with the voices sharing their perspectives and insights and identifying areas where the brand can improve. 
E

ducating their audiences
Gen-Z audiences expect transparency from brands. And while brands, like PUMA, transparently report on successes and setbacks in sustainability, it's just not accessible for a younger audience. The Voices of a RE:GENERATION will work with PUMA to translate sustainability in a way that makes sense to and engages with their audiences.
Over the coming months, the Voices will engage in a series of meetings with PUMA's sustainability leadership team.
Their mission? To challenge and provide candid feedback on our FOREVER.BETTER. sustainability strategy and explore innovative ways to make sustainability more accessible to the younger generation.  
View this post on Instagram
Crossing Boundaries for Collective Progress
The first session of a series of dialogues planned between the VOICES and PUMAs Sustainability C-Suite took place in June.
The session brought together our Voices and Veronique Rochet (Senior Head of Sustainability, Supply Chain), Stefan Seidal (Senior Head of Corporate Sustainability), Simon Hessel (Senior Manager Corporate Strategy), and Anne-Laure Descours (Chief Sourcing Officer).
Prior to attending the dialogue, the Voices spent time digesting and reflecting on PUMA's sustainability report. They used these insights, together with questions submitted by their social media communities to prepare for the Q&A session. During the Q&A the voices shared their perspectives and questions with the PUMA team. Key takeaways and answers from the lively Q&A were then shared through their social media channels afterwards.  
These shared insights pave the way for more interactions in October and December, where our Voices will meet with PUMA's C-Suite sustainability leaders once again to delve deeper into our FOREVER.BETTER. and our key focus areas of Human Rights, Circularity and Climate. 
Transparency Unveiled: A Factory Journey

 
The journey doesn't stop there. October 2023 holds a remarkable experience for two of our Voices when Luke and Jade will journey into the heart of PUMA's supply chain and visit our supplier factories in Bangladesh and Vietnam. 
The purpose of the supplier visits will be to share the progress and challenges in the PUMA supply chain.  On the visit, the voices will experience firsthand the realities of the garment industry and share these insights with their social communities. 
We invite our whole PUMAFam to follow the journey!
So, keep an eye on our upcoming articles and follow our Voices of a RE:GENERATION on their journey with PUMA.