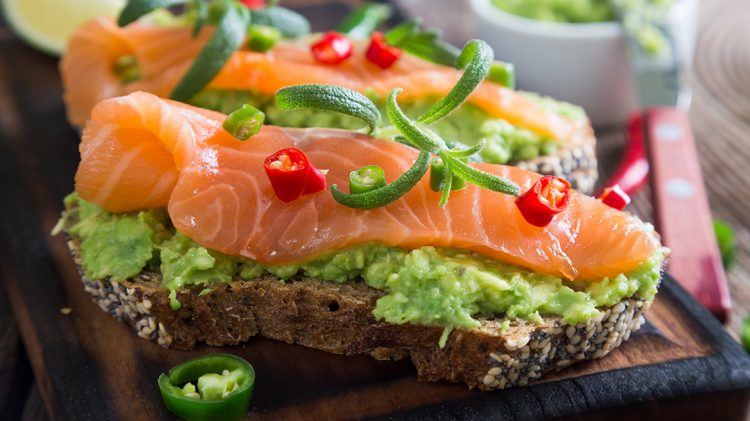 Healthy
Sandwich
Alert
Avocado meets Smoked Salmon
April 30, 2017
Avocado meets Smoked Salmon
April 30, 2017
This easy open-faced sandwich recipe is the perfect
light lunch option

or

post-workout snack

. Colourful ingredients like

salmon and avocado

add loads of fun to your plate (You eat with your eyes first after all!). Fibre-rich rye will keep you full for a long time, while the fresh herbs provide a flavourful variety.
WHAT YOU NEED (SERVES 4):
2 avocados
1 clove of garlic, minced
Salt and pepper
Fresh lemon juice
4 slices of whole-grain rye bread, about 200 g
A few slices smoked salmon, about 160 g
Fresh herbs, such as parsley, dill or chives
Fresh chillies, chopped
Optional: a dollop of sour cream
HOW TO PREPARE:
Mash the avocado and add garlic, salt, pepper and lemon juice. Spread over the slices of toasted whole-grain rye bread.
Arrange the smoked salmon on the mashed avocado and top with fresh herbs and chopped chillies. If desired, finish off with a dollop of sour cream. Instead of smoked salmon, sliced turkey breast also works well.