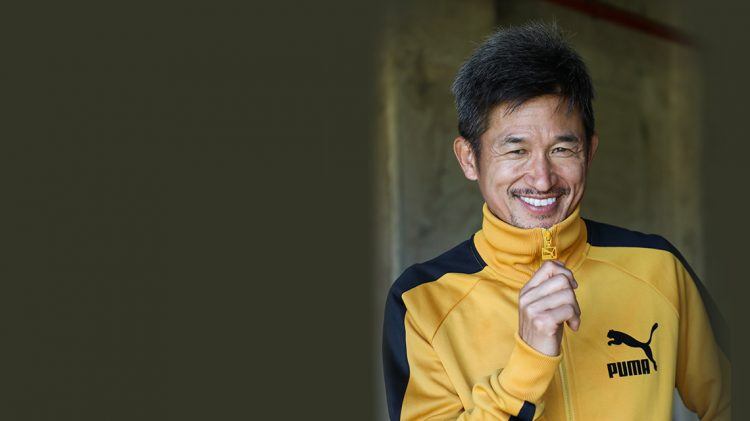 A new
record for
"King" Kazu
At 53, PUMA Football Player "King" Kazu Miura became the oldest player in Japan's J.League
September 24, 2020
At 53, PUMA Football Player "King" Kazu Miura became the oldest player in Japan's J.League
September 24, 2020
When Japanese player Kazuyoshi Miura played his first professional football game for Brazilian side Santos in 1986, Neymar Jr., Luis Suárez and Antoine Griezmann had not yet been born. Yet on Wednesday, Miura, or "King" Kazu as he is known by his fans, became the
oldest player

in Japan's top professional league at the age of

53 years old, 6 months and 28 days.

Born in 1967, Miura moved to Brazil at a young age and made his professional debut for Santos, the club where Neymar Jr. would also play his first "Brasileirão" match 23 years later. His long career as a forward would take him to other clubs in Brazil but also to Italy, Croatia, Australia and his native Japan. He also became one of the top scorers of the Japanese national team, for which he made 89 appearances between 1990 and 2000 and scored 55 goals. He already set the record for the J.League's oldest goal scorer, when he scored in March 2017 at the age of 50 years old.

For 34 years, Miura has been a proud member of the PUMA family. His new record on Wednesday was also an opportunity for PUMA Japan show off the PUMA KING football boot with a special dedication stitched onto its leather: KAZU with a crown placed next to it and the Portuguese words "Boa Sorte", meaning "Good Luck", placed underneath.
It may not be as simple to recover from a professional football game at the age of 53, compared to someone aged in their 20s, but King Kazu remains determined to keep on playing. His many fans thank him for it!