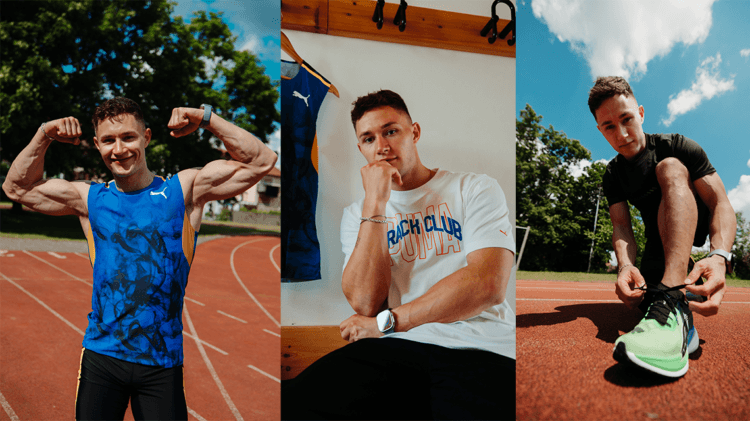 Bronze in Paris
An Interview with the Inspiring Champion and Para Athlete Felix Streng
July 17, 2023
An Interview with the Inspiring Champion and Para Athlete Felix Streng
July 17, 2023
At the Para Athletics World Championships in Paris, all eyes are on para athlete
Felix Streng

, a true force to be reckoned with on the track. With a remarkable journey that includes two individual

bronze

medals from Rio, a

silver

in the 200m at Tokyo, and a very recent

bronze

in the 100m in Paris, Felix Streng has established himself as an unstoppable force in the world of para athletics.

In an exclusive interview prior to this years global competition, we dive into Felix's extraordinary achievements, his relentless determination, and the invaluable lessons he has learned along the way. Read on to learn more about the inspiring story behind this remarkable athlete.
Two individual bronze medals from Rio, a silver in the 200m at Tokyo and gold in the 100m, too. How did you feel when you crossed the line in Tokyo in the 100m, and won that individual gold?
Felix: Crossing the line and becoming Paralympic champion in the 100 meter in such an amazing race…it was such a close race. I think it was the fastest race in Paralympic history and the closest race ever. And to achieve the first place position was special because I made so many sacrifices last year, I pushed so hard and I challenged myself outside of my comfort zone so many times. Crossing the line first, I just thought "is it real? Is it a dream?" It was a dream that came true. And it was the greatest moment of my track career.
Can you tell us a little bit about how you started out in track & field? What was the journey for young Felix to Paralympian Felix?
Felix: I actually started track by accident. In 2012, my sport teacher came to me one day and asked me if I wanted to make a school presentation about the Paralympics. At that point I saw all these guys running in London and it looked so amazing, and that inspired me. After London, I started running and realized in the process that I really wanted to go to Rio. And now I'm training in London and I'm exploring the world, travelling around, meeting great people and competing at the Paralympics and winning a gold medal. That's amazing and I never expected that years ago.
When we look at the medals, we see the highs & the success, but can you tell us a little bit about the more challenging moments of your career? What helped you to keep going in those moments?
Felix: I think it's important to believe in yourself, but to also be very critical and honest with yourself. Because only when you are honest to yourself and believe in yourself, can you make these changes to improve again. And I think it's also important that you are not running away from challenging moments, you have to face these moments to come out of them and come out stronger. When you are at the bottom you always have only two ways to go: you can give up, or you find a way to work harder and smarter to come back up again.
When you have achieved such success, what comes next? Is there a period where you can enjoy your successes, or do you instantly move onto your next goal?
Felix: Success for me personally means pushing the limits, believing in yourself, getting out of your comfort zone, trying to achieve something like nobody has ever achieved before. At the point where it matters, put trust in yourself, be calm, and then just performing at the best level you can.
I didn't really give myself the chance to enjoy being in the moment after Rio. I said "ok, let's go to the next one." But during the preparation for Tokyo, I asked myself "why are you doing all these things when you do not enjoy them for a short moment? When you don't just enjoy the moment and enjoy the feeling of having such a great time and such a great experience?" So, I think it's about finding the balance between enjoying things at the right time and then shifting into work mode and getting focused again, to work hard and prepare myself for the next race.
What does it mean to you to be part the PUMA Family?
Felix:
It's great to be part of the PUMA family. It's great to be around these people, they are always inspiring. The people are so nice and all the athletes are such an inspiration. I think especially Usain Bolt. He was the guy when I started Track&Field: he was dominating the sprint and I think he's still an inspiration for me. Even Usain had these moments where he was struggling and where he had to fight through. He inspired me because he always stayed positive, he always focused on the good things, he focused on his ability. And that was amazing.
What advice would you give to young athletes?
Felix: My advice for younger athletes would be to put trust in themselves and see the opportunities, see their abilities. Also to be open minded and try to find new ways, try to find solutions for themselves that work. Working hard for your dreams and being positive about that, not being distracted by the people who are trying to pull you down. I think it's also very important to enjoy what you are doing. Because if you enjoy what you are doing, it never feels like work. You will grow higher than you ever believed you could.