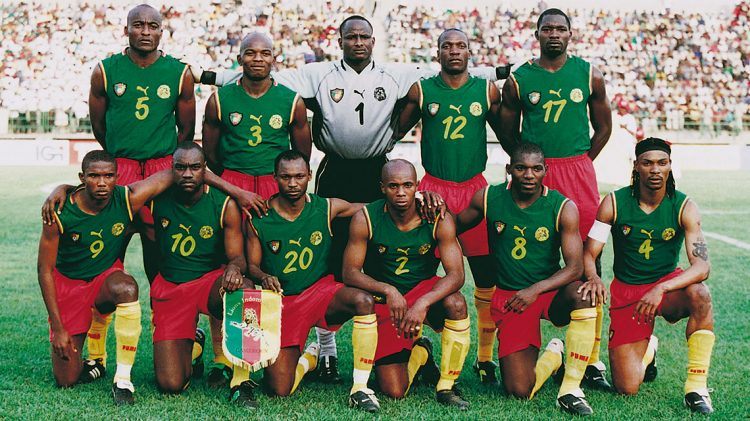 PUMA Archive
The perfect stage
for scandals
The Africa Cup has always been ideal to cause a stir
January 24, 2017
The Africa Cup has always been ideal to cause a stir
January 24, 2017
"What can we do to be different?"
The PUMA Teamsport Team was adamant to make sure PUMA stood out during the Africa Cup of Nations in Mali in 2002. They had observed that the players always rolled up their sleeves during training because of the heat. "So, we said: let's work on a sleeveless jersey, " recounts Johan Adamsson, PUMA's Global Director of Sports Marketing & Licensing, back then "International Deputy Football Marketing Manager" and 28 years young.
No sooner said than done, the players of the Cameroon National Team sported tight muscle-shirt-jerseys on Mali's pitches – something the football world had never seen before. "Also using an African National Team as a "brand platform" was something ground-breaking and we wanted to show that it doesn't need to be the big boys such as World Champions in order to create buzz."
The jerseys adapted perfectly to the hot conditions. "The players absolutely loved the shirts and wore them during the whole tournament." And maybe they helped Cameroon to claim the African Champions title that year? Who knows.
However, not everyone was pleased. FIFA officials complained because due to the missing sleeves, the newly introduced FIFA badges could not be attached to their designated spot.
"For the upcoming World Cup in Korea & Japan, we had to find a compromise with FIFA and attached black mesh that functioned as sleeves." This did not diminish the credit PUMA received from fans and media alike for this out-of-box thinking.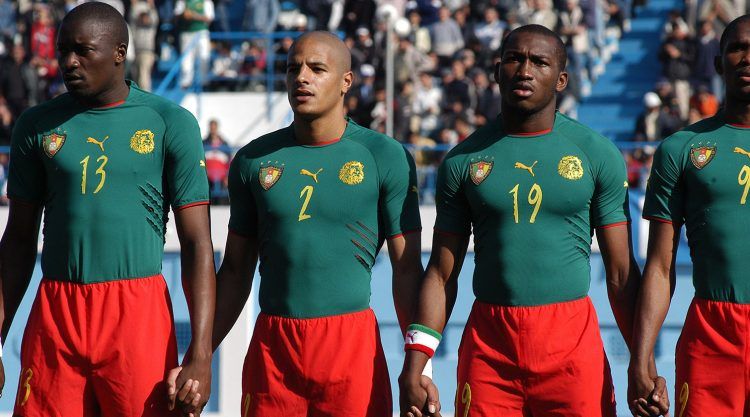 Afraid of FIFA? No Way!
If you think that an argument with FIFA would have intimidated and made us go back to old-fashioned, boring jersey styles, you are mistaken. We even took the idea of unconventional football kits a bit further. In 2004, we provided Cameroon with a one-piece football dress, the "PUMA UniQT." The idea behind it was to remove unnecessary bulk and limit shirt-grabs by opponents.
"We put extensive research and testing into the kit's development. We had the players secretly wearing it during practice beneath their normal apparel and they were super enthusiastic. They stood in front of the mirror admiring the comfortable, tight muscle fit of the one-piece. Most of the players took one size smaller than their usual fit to give their muscles even more compression and definition."
Of course, FIFA was again not pleased with the revolutionary kits. Claiming that the design would not comply with the official rule that said that football kits had to consist of separate shirts and shorts, FIFA punished the team by revoking six points in the qualification for the 2006 World Cup and imposing a fine of 200.000 Swiss Francs.
"That was a blow for all of us, especially Cameroon of course. Today, I am still baffled by the heftiness of FIFA's reaction to our kit design. The Federation and players were very upset and of course worried about their participation in the World Cup 2006."
In the wake of this decision, PUMA launched a PR campaign to support Cameroon and both, PUMA and Cameroon, took legal actions against FIFA. The legal dispute ended with a compromise. The intended 200.000 Swiss Francs fine was transformed into a shared donation to a football development project in Cameroon and the point deduction was never imposed.
After the controversy FIFA updated its rule book to make it absolutely clear that a football kit must consist of separate shirts and shorts.
"If the rules remain as they are, we will not see a one-piece in football kit again in a major championship which can maybe be considered sad. That said, both the sleeveless shirt and the UniQT will forever be part of Football history."