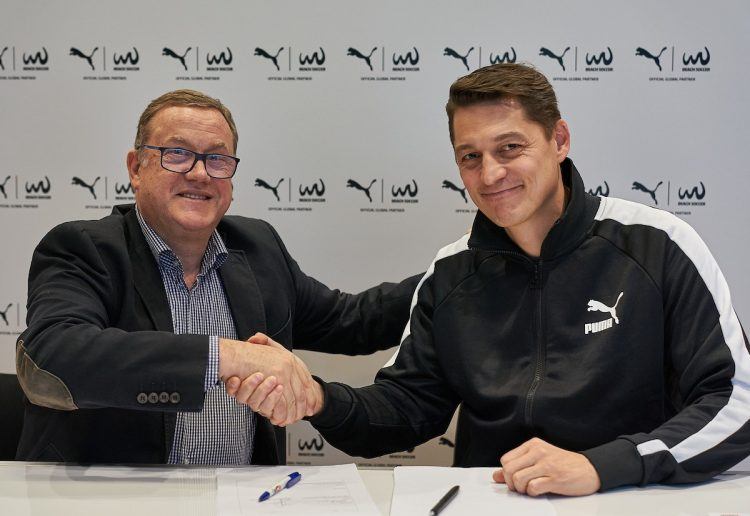 PUMA backs beach soccer
Global partnership with Beach Soccer World Wide elevates sport
February 3, 2020
Global partnership with Beach Soccer World Wide elevates sport
February 3, 2020
We've all heard of beach volleyball. Most of us have even tried our hand at it. But beach… soccer? Time to dive in and take a closer look.
Football/soccer players worldwide aren't new to the game. Playing soccer on the beach has become incredibly popular – not only for hobby soccer players on vacation, but also at the professional level. A big improvement for a sport which, at its inception seemed popular only with retired soccer stars.
If you're not familiar with the sport, it all happens on a sandy, 28 by 37 meter field. And since the ball never rolls straight on the uneven playing field, it spends a lot of time in the air, meaning overhead kicks and headers are an integral part of the game. It's the perfect arena to work on perfecting some lesser-used techniques.
All the more reason to get excited about the new partnership between Beach Soccer Worldwide (BSWW) and PUMA! In the global deal, PUMA will provide the official match ball for all BSWW competitions, as well as the uniforms for its officials and crew.
Great news for PUMA, as it means increased visibility and activation rights at all BSWW events, not to mention co-exclusivity on some event assets with Spain's top-tier football league LaLiga,  who has also signed up as a global sponsor of beach soccer. Some serious symbiosis, considering the PUMA-LaLiga partnership. Best of all, the BSWW will also provide PUMA with access to the organization's ambassadors for campaigns and promotions.
The exciting deal is likely to pique the curiosity of lots of people, putting beach soccer on the radar globally, for players and non-players alike.
Want to tune in? The PUMA ball premier will be happening at the seventh biennial 'Mundialito de Clubes' – the sport's international competition – from February 12th through 16th in Moscow.