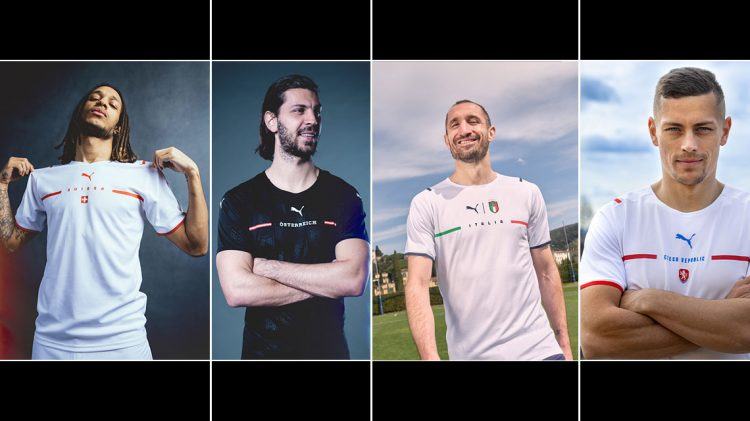 New
away
jerseys
PUMA UNVEILS CREATIVE DIRECTION FOR NEW FEDERATION AWAY JERSEYS
April 22, 2021
PUMA UNVEILS CREATIVE DIRECTION FOR NEW FEDERATION AWAY JERSEYS
April 22, 2021
We just launched our
new 2021 Federation Away

kits to be worn by the men's, women's and youth teams. The kits launch as part of our

'Only See Great' platform

, celebrating the unique cultural identity of PUMA's leading federations:

Italy, Austria, Czech Republic and Switzerland

.
Each jersey symbolizes the national pride and identity of each nation. The kits are not only for the eleven players on the pitch, the 23-man playing squad or the federation, but for the countries and the millions of people they represent. To achieve this contemporary design, PUMA reimagined the positioning of kit marques and symbols, elevating the identity and visualization of the country name and flag colors by weaving them into the fabric. An additional key feature is the federation emblems of the teams has been tonally embossed throughout the jersey creating a unique visual aesthetic.
ITALY

Made for millions. The new Italy Away kit celebrates all of Italy by featuring the country name and flag colors in a bright, brilliant graphic alongside the centrally aligned FIGC emblem and PUMA Cat. Navy blue accents add an elegant finishing touch to the white Away jersey.
AUSTRIA
Stand for Österreich. The new Austria Away kit celebrates community and togetherness, placing the country name and flag colors at the center of the design. The ÖFB federation emblem forms a tonal repeat graphic throughout, complemented by the centrally aligned PUMA Cat.
CZECH REPUBLIC
This is the Czech Republic. Charged with pride and meaning, the new Away kit features the country name as the central element of the design, complemented by red and blue accents and a centrally positioned FACR federation emblem.
SWITZERLAND
Suisse is us. Packed with national pride, the new Away kit takes the Switzerland identity to new levels. The country name takes over the central position on a classic white jersey alongside the centrally aligned country flag and PUMA Cat. Red accents and a subtle tonal repeat of a swiss cross complete the design.