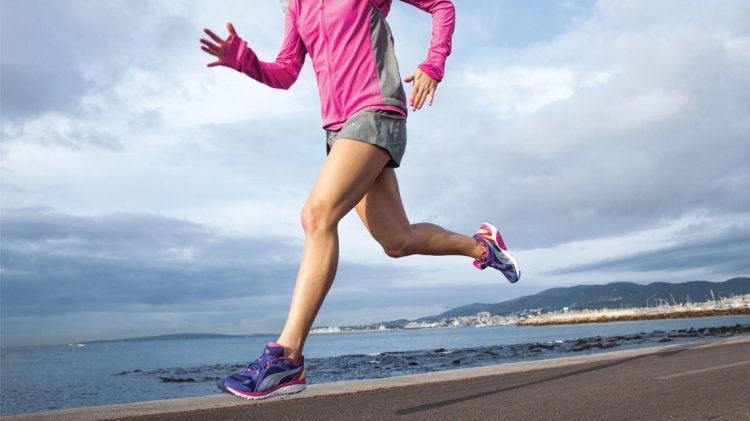 Sweat
it
out
Workout Playlist for the summer
July 28, 2016
Workout Playlist for the summer
July 28, 2016
For our first
workout playlist

, we have combined some of our all-time favorites with our current favorites. So whether you enjoy working out outside or the gym is your jam (summer, unfortunately, doesn't always equal lush weather), music is always an essential part of any good sweat session. Nothing gets you going like your favorite tune blasting from your headphones. So in case your workout playlist is lacking some inspiration, adding our favorite picks will help you be

#foreverfaster. 
Crazy In Love (2003) – Beyoncé feat. Jay Z
It has been 13 years since Beyoncé first made everyone go "Uh oh, uh oh, uh oh, oh no no". Nevermind! You can still listen to "Crazy In Love" loudly and proudly in 2016. The beat is infectious and when Beyoncé asks "You ready?" at the beginning of the song, you better make sure you are.
This is What You Came For (2016) – Calvin Harris feat. Rihanna
Calvin Harris and Rihanna have worked together before on "We Found Love" and "Where Have You Been" back in 2011. Remaining faithful to his House roots, this dynamic song is another successful collaboration for the Scottish DJ and Rihanna. 
Lose Control (2005) – Missy Elliott feat. Ciara & Fat Man Scoop
This song is pure uptempo goodness and inevitably makes you want to move your body. One simply can't help but get hyped by this Missy Elliott gem. This banger will really push you to your limit. 
One Dance (2016) – Drake
Undoubtedly one of the most popular songs of the year. Drake instantly puts you in a good mood and makes the most tedious run on the treadmill more fun with this tune.
Milkshake (2003) – Kelis
To everyone who says they do not enjoy this song, you must be lying. Listening to Kelis sing about how her "milkshake brings all the boys to the yard" is motivation enough. And apart from that, it actually is a good song with a unique energy.
Call Your Girlfriend (2010) – Robyn
Swedish Electropop Queen Robyn is well-known for making addictive music with "on repeat" alert that is guaranteed to make you want to sing along. This emotional yet energetic tune is perfect for when you are starting or finishing your workout.
Sorry (2015) – Justin Bieber
Let's face it: this is the song that turned most of you out there into Beliebers. Justin's voice is silky-smooth while he is apologizing to an ex-lover. Don't fight it and lose yourself in this fun dancehall-pop tune!
SexyBack (2006) – Justin Timberlake feat. Timbaland
Another Justin on our list. This Justin Timberlake favorite is the perfect song to get sweaty to. The electronic sound and interplay of Justin's voice and Timbaland's backing vocals in the chorus are on point. "Go ahead, be gone with it"!
Cheap Thrills (2016) – Sia feat. Sean Paul
"Cheap Thrills" is undeniably one of the most danceable tracks Sia has released so far and Jamaican reggae artist Sean Paul is the perfect vocal addition on the official remix version. The catchy beat and Sia's powerful vocals will motivate you to step up your workout game.
Whip My Hair (2010) – Willow Smith
The debut single by Willow Smith is high-energy and the perfect song to get silly too. Note to self: working out doesn't always have to be serious. Don't forget to have fun and try not to fall off the elliptical when this jam comes on.
Into you (2016) – Ariana Grande
The song's structure actually resembles a good workout: it starts off slow and calm and the energy keeps building up steadily up to the hook, eventually climaxing in the chorus. When Ariana finally and fully unleashes, she'll carry you with her.
Y.A.L.A. (2013) – M.I.A.
M.I.A. doesn't believe in YOLO ("You only live once") but rather: "You always live again". Put this song on for a real intense workout, the thumping beat will get you going and going.
Wannabe (1996) – Spice Girls
Oldie but goldie – even though the concept of Girl Power never gets old. This Spice Girls classic was released 20 years ago and still excites us. Channel Sporty Spice's spirit and get pumped!
Express Yourself (2012) – Diplo feat. Nicky Da B
Let's be honest, this is probably not going to be the soundtrack of your next Yoga class. But the energetic vibe and contagious rhythm should make this song a regular on your workout playlist – maybe even Yoga.
Stronger (2007) – Kanye West
"Work it harder, make it better, do it faster" – "Stronger" is basically the ultimate workout anthem. The lyrics encourage you to keep going and are emphasized by the larger-than-life production of the song. So in case you need that extra dash of motivation, this is the ace up your sleeve.