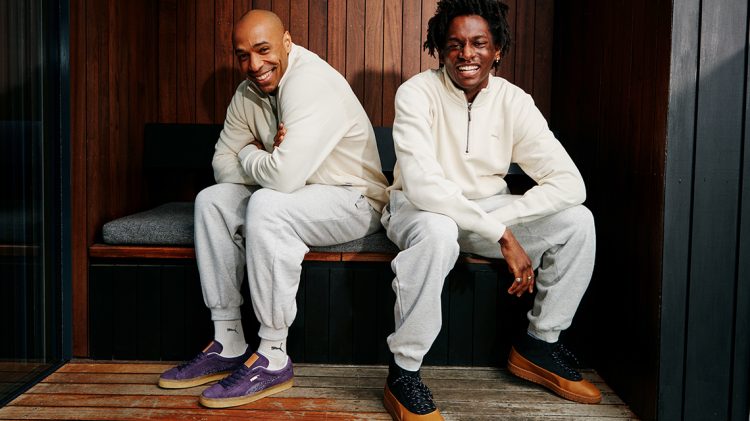 MADE
WITH
QUALITY
THIERRY HENRY WEARS A PREMIUM TAKE ON PUMA'S CLASSIC SPORTSWEAR
August 30, 2021
THIERRY HENRY WEARS A PREMIUM TAKE ON PUMA'S CLASSIC SPORTSWEAR
August 30, 2021
We just released our
MMQ

line, a premium take on classic PUMA sportswear. Who is a better face of a campaign of a collection synonymous with craftsmanship and quality, than

football legend Thierry Henry

? MMQ, short for "Macht's mit Qualität" translates to "

Made with Quality

." This theme serves as the inspiration for elevated apparel and sneakers. Take a look!
Ushering in a new era of subtlety and quality, this season of MMQ is inspired by minimal Scandinavian design sensibilities featuring expert craftsmanship and elevated construction. Streetwear classics are reinterpreted and refined for modern day in this classic collection.
Who is the judge, quality is what you like, quality is what you live for, quality is what represents you.
1. As a football legend, you're known for your pursuit of precision and perfection on the pitch. How has your career and legacy been defined by quality?
Thierry Henry: It's more than that, it's more than just quality. First and formally, it comes with the team, it comes with hard work. Quality does matter, but if you don't work, if you don't have guys around you to enhance that, to make sure that you can showcase and show your quality and develop it, then you go nowhere. To an extent, whatever quality you have, it's always good to bring it in to make sure that the team can perform well. You need to make sure that you bring it and reach whatever goal you have at the beginning of the season. Quality does help, it makes it easier, but if you don't bring your performance, quality is worthless.
2. What does quality mean to you across all aspects of your life?
Thierry Henry: Quality is just a way of living, just a statement, a state of mind. It's who you are, what you represent, what you're going to transmit. Quality should come along with performance, because if you have quality and you don't have result with it, then you won't be able to fully perform. It's the same with a guy who's a fashion designer, if the collection doesn't work or do well, the guy has quality, but he just didn't make it happen. It's like, yes, you have quality, but for some reason you can't materialize it.
3. Your name and style are synonymous with a distinctly European charm and elegance, making you the perfect fit for the MMQ collection, which revisits classics and refines them. Tell us about what dressing with timelessness means to you.
Thierry Henry: I think for me a piece should be done so that you can wear it whenever, in 20 years from now or 20 years ago, the MMQ collection is the same. I would wear it in 20 years, and I was wearing something like when I was younger. We always go back on trends – at one point we were back in the 90s, then 80s. I'm sure everyone had something and then is like, damn, I just got rid of that jacket from 10 years ago and everybody wears it now. I don't get rid of anything. I'm still wearing what I like. That's why for me a piece should be something that no matter what time or point or whatever world that we live in, you're going to wear it because, first and foremost, you like it, and it will still be cool.
4. What's your favorite piece in the collection? Any advice on how you would style it?
Thierry Henry: It's not a specific piece, but the colors and material. I just like it, for example, in the trainers, they are beige all around but then you get this great pop of color with the purple. The material is also good because I like when I wear something that I don't feel I need to touch all the time. Sometimes you have a piece where the material rubs against your skin and you need to take it off straight away, although it looks good, but it doesn't feel good. So, it's always good when you have a combo that looks good and feels good. For MMQ there is not a piece I love the most, it's just the way they went about. Style is all about you on the day. I start off the trainers always, that's how I build my outfits. I cannot tell you, for example, what I'm going to wear today. That's the most important piece for me and how I go about on styling my look.
5. If you could define the MMQ collection in a sentence, what would that be?
Thierry Henry: Strong statement, but in a cool relaxed way.
6. Danny Kasirye shot the collection campaign and is known for his unique perspective on fashion photography, as well as having his subjects turn the camera on him during the shoot. What was it like to work with him? How did it feel to be on the other side of the camera?
Thierry Henry: First and foremost, it was great and fun. As you see in some of the pictures, I was smiling a lot. Danny made it very good on the day and he asked me to take a picture, then I took the picture, but it was very relaxed. You can see on my face when you look at the pictures, that I was really enjoying it, you can see there are lots of proper smiles. I felt comfortable. I think it's one of the first times that a photographer has asked me to take a picture of him, I thought it was cool and a different experience.
7. Danny, what was it like to work with Thierry?
Danny Kasirye: It was incredible, he was such a professional and so good at being in front of the camera. The same confidence he did display in front of goal so many times. Being one of my favorite football players it was such an amazing day for me personally!
8. What does quality mean to you?
Danny Kasirye: Quality is something that's carefully considered. The result of something that's taken time and care to craft. Something everyone is capable of producing but not many will take the required time to.
Campaign images of Thierry Henry were shot by Danny Kasirye, a Ugandan-British photographer and director based between London and New York. He has recently broken out with a series of high-profile shoots, with a unique perspective on fashion photography, animated by his constant search for non-conformity and authenticity. As he does with all his subjects, Danny had Thierry turn the camera on him at the end for a few candid shots.
Danny
Kasirye