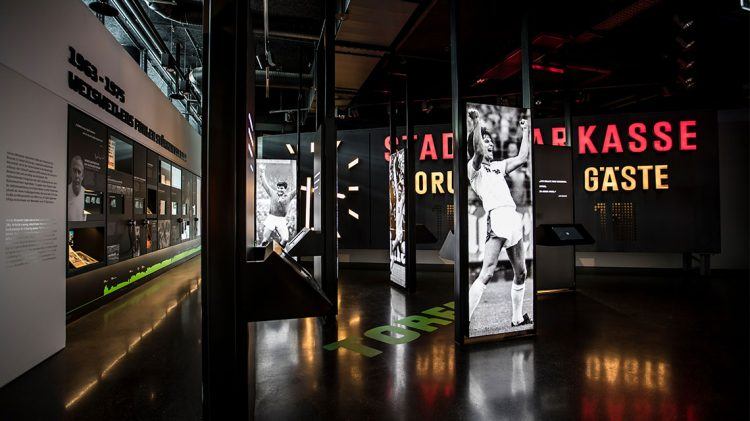 PUMA Archive's
first away match
Borussia Mönchengladbach opens new museum with special PUMA exhibition
May 31, 2019
Borussia Mönchengladbach opens new museum with special PUMA exhibition
May 31, 2019
Borussia Mönchengladbach and PUMA share a
rich history,

marked by many victories, prestigious titles and unforgettable moments.
Founded in 1900, Borussia Mönchengladbach has one of the longest tradition in football and a passionate fan culture.
To celebrate their 120 years in football, the club just opened their first museum and obviously PUMA could not miss out. Borussia Mönchengladbach invited PUMA to be the first guest of their special exhibition space.
For the first time ever, the PUMA Archive publicly exposed some of its greatest treasures, celebrating seven decades of records, innovations and sports icons. Until July 14, visitors can admire original boots from Pelé and Maradona, Boris Becker's Wimbledon racket and Usain Bolt spikes in the dedicated PUMA70 space.
PUMA first equipped the "Fohlen" from 1967 to 1992 – the golden era of the club. In that period, Gladbach won five Bundesliga titles, two UEFA Cups and one domestic cup title. We have been "Glad to Be Back" from this season onwards.
In 21 thematic areas, visitors can (re)discover legendary moments, deepen their knowledge about Borussia and experience special surroundings, like a reconstruction of the players' locker room, a press conference setup or an original tribune from the club's iconic stadium "Böckelberg". 
On a surface of 1,250 square-meters, the club provides an interactive walk through their history, providing a state-of-the-art digital journey. In addition to the impressive amount of historical footage in the exhibit, the museum offers 8 different digital guides on iPads featuring celebrities and players, who share their passion for the club and their individual anecdotes throughout the visit.