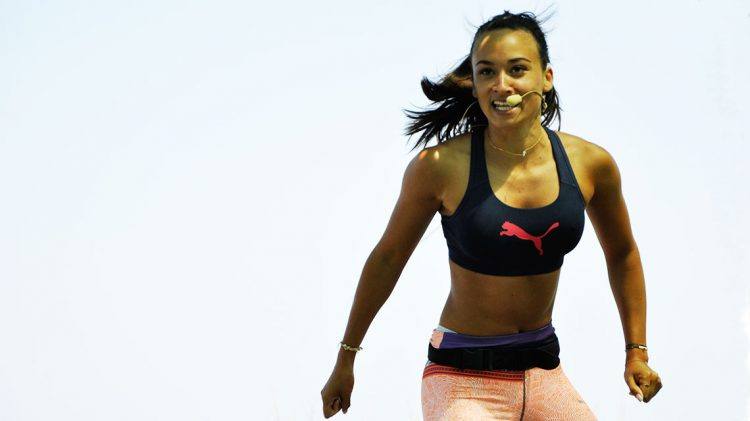 The Girl
Next Door
What does it take to become a Fitness YouTube Star?
July 13, 2017
What does it take to become a Fitness YouTube Star?
July 13, 2017
She has more than 400,000 subscribers on her YouTube channels and her videos have been viewed around 49 million times since 2013:
Fitness YouTuber and PUMA ambassador Anne Kissner

has built up an impressive fitness and nutrition concept and her community is constantly growing.

CATch up met up with the gentle and authentic 29-year old during the "Get Stronger Week by PUMA" run by Best Reisen at holiday resort ROBINSON Club Kyllini Beach in Greece. We wanted to know what it is that makes her channels so successful.
"I think the most important thing is that I am like the girl next door. I am not a star."
Anne Kissner leans forward in a lounge chair, her chin cupped in one hand, while she seems to be interested in every single question she is being asked. And obviously, she has fun answering them. In fact, it is hard to imagine that there are things that she doesn't like doing. Her talking is frequently accompanied by laughter, radiating an immensely positive attitude. Our little interview soon feels like a chat among good friends and it is obvious that authenticity just comes natural to her.
"We answer all comments and questions that are coming in personally. This is very important for us and there is no support behind it, it is just the two of us." Anne points over to her husband Daniel. The two have been running Bodykiss, Anne's Fitness channel on YouTube, together since 2013.
Her fitness career, however, started off seven years ago with a problem that most of us are likely familiar with. "Sitting, eating pasta, sitting, eating pasta, sitting, eating pasta", she describes her student life routine at university, that ended in a bit of a belly. A friend of hers then dragged her along to a pole dance class. "I was rather thin and thin people can hide their unfitness quite well. I considered myself to be quite sporty, before I realized that I totally wasn't", she admits and remembers that she couldn't lift herself up on the pole, not only once. "I thought I really needed to do something and I started to work out at home with YouTube videos." She had worked on her body with American female fitness YouTubers for two years, when she realized there were no workout videos for German women. "One day, Daniel and me thought: "Why don't we shoot a workout and upload it? The worst that can happen is that there is a silly video online that we can take off again."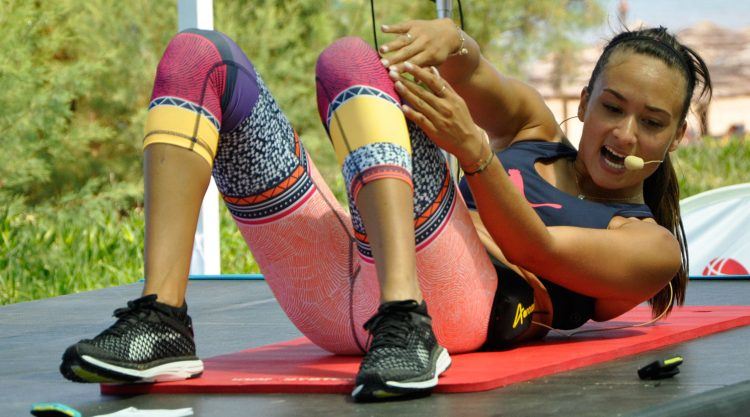 That was in 2013. "That video is still online. It was shot with a mobile in our flat and it was rather dark. It's a bit embarrassing today, but we do not take videos off." Since then, the couple has become more and more professional in their digital work. Camera usage evolved from mobiles via camcoders to SLRs and so did Daniel's video producing skills. "When we started, I knew how to push the "record" button, but then I got really into it, fiddled about and our videos became better and better," says the 34-year old, whose university degree in Business Information Technology comes in definitely handy here.
Successful videos need to have 100% relevant content, Daniel points out. But even more important are the looks. "People are visual and videos have to have high-image quality. Mobile devices don't really do the job here, because you have to get the sound right."
In the first six months, the work load was enormous. "We thought we had to flood the channel and so we produced and uploaded a video every day, next to our full-time jobs", Daniel reflects. Back then, he worked as a business data processing specialist in medium-sized company, while Anne worked as a lawyer in a law-firm.
With the growing success and steadily increasing community, sponsoring deals started to come in. Then, two years ago, they both quit their jobs to work as full-time YouTubers. "It took a lot of courage to leave the security of an employment contract and a secure income behind," Anne says. Despite initial skepticism from her parents, family and friends supported their step. "My mom first thought I should continue doing a real job, but she has become our biggest fan."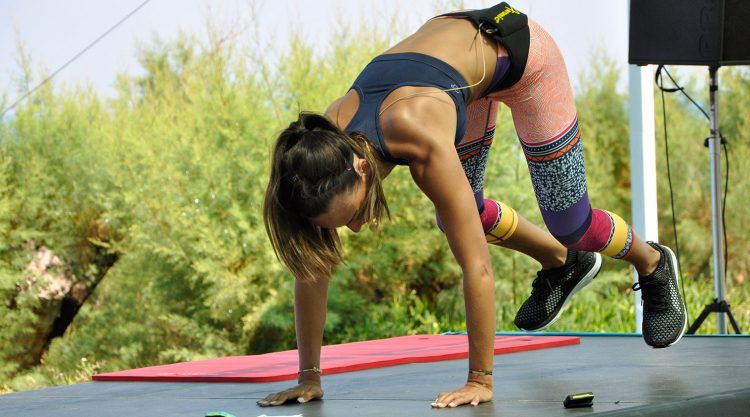 Isn't Anne worried that YouTube fitness is just a trend? "Initially, I thought it is just a hype and soon we will be falling into nothing. But a lot of big firms are only now jumping on the YouTube trend and I am not sure whether a peak has already been reached. Maybe it's coming next year or in two years, but right now our channel is solidly growing and we are steadily attracting new subscribers." Anne has seen other fitness channels that seemed to have reached their zenith with declining subscriber numbers. "The problem there seems to be a lack of innovation." A problem that Anne does not have.
While Bodykiss is mainly a fitness channel, focusing on HIIT (high-intensity interval training), Anne's videos feature a lot of topics around lifestyle and nutrition. She doesn't shy away from reporting her experiences on getting breast implants, gives tips on how to use food left-overs for dinner recipes, presents her favourite audio books or shares travel tips. "We have seen that our community has a strong interest in videos that show how to best integrate sports and healthy nutrition into everyday life."
This seems, in fact, to be one Bodykiss' success factors: providing advice for women who have a normal working life and not the time to go to the gym six times a week. "This comes from my own experience because I have never had nothing to do nor did I have the time to do sports all day long. I had a full-time job and my workout had to fit into my daily schedule," Anne says.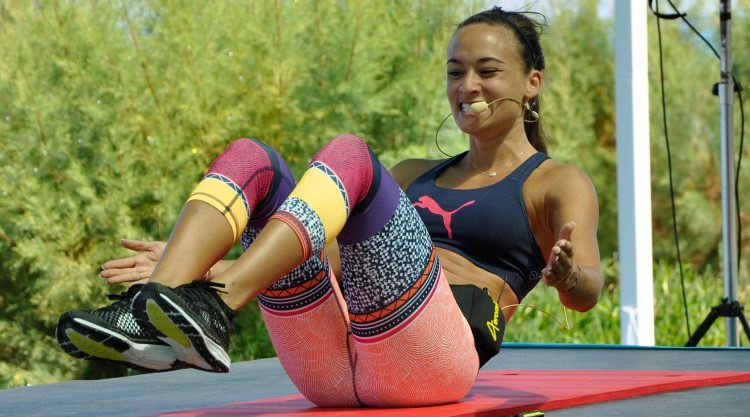 This is where HIIT comes into play. The workout that Anne's channel focusses on is a high-intensity interval training, that is short and very effective. The exercises are designed to push yourself briefly to 100% of your performance, then down and then up again. "This is how you reach the ultimate levels of fat burning. You could also go jogging for four hours, but there is nothing more effective in such a short time than HIIT." Bodykiss provides numerous 15-minute workouts that can be perfectly integrated into a busy day.
Nine months ago, Anne and Daniel launched Bodyfood, another YouTube channel, that features everything around healthy nutrition and has already attracted 67,000 subscribers. "Initially, we showed recipes on Bodykiss, but we realized that there are people who just want to watch food videos and others are just interested in workouts, so we separated the two." The key to success here: purely vegetarian meals and no supplements.
Recipes stem from own her experiments, while Anne's expert knowledge on fitness derived from watching other workout instructors on YouTube and studying the theory by herself on the internet. "Daniel taught me a lot, too, as he was much more into fitness than I was, when we met." That was in January 2008 and three months ago, they got married. Since they quit their jobs, the two have spent 24 hours together every day – something that can get tough on a relationship. "It works very well, though", Anne says and beams over to her husband. "We are totally aware of each other's strengths. Mine are in front of the camera, Daniel's behind. And when I get really angry, which can happen, Daniel knows how to calm me down. We are really like ying and yang."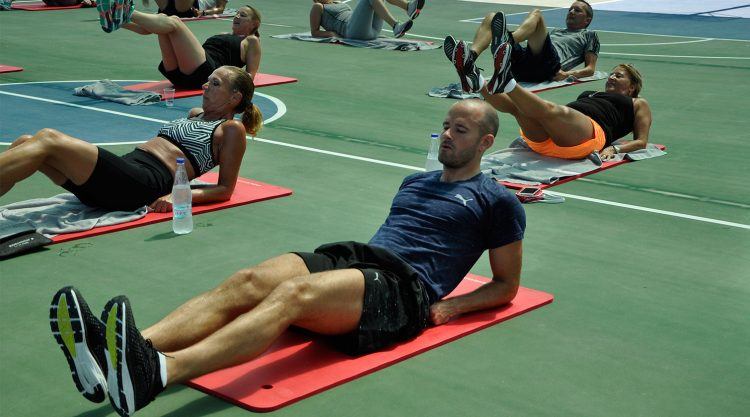 Maybe it is the ease and familiarity that radiate from her videos that make Anne so popular, that that girl-from-next-door feeling, that she emanates, gives her viewers the impression that she is like them, that, reversely, everyone can get as fit and acquire the same toned body as she has. Making the amazing, yet achievable happen – a motivation that seems to get people coming back to her channel, sweating together with her in front of the TV screen.
However, at second glance, Anne is more than the ordinary. Committing to keeping up a fitness channel with first-class content requires without a doubt an enormous amount of dedication. And that she is ambitious shows her academic career: although she quit her job as a lawyer, Anne works currently on her PhD in New Media, You Tube and the legal side of it. Two days a week are dedicated to her doctoral dissertation, the rest to YouTube and her own fitness platform Bodyshape, which launched two years ago and has attracted a 5-digit customer base so far.
But what is it that motivates her to keep going? "I love hearing those stories from people, when they come and say: "you have changed my life" or "because of you, I have become a sports fanatic". There are also a lot of people who suffer from anorexia and when they say that I helped them to get back to normal eating, this is the biggest personal gain for me. Daniel then always says: "Because of this one person, Anne, it has already been worth it."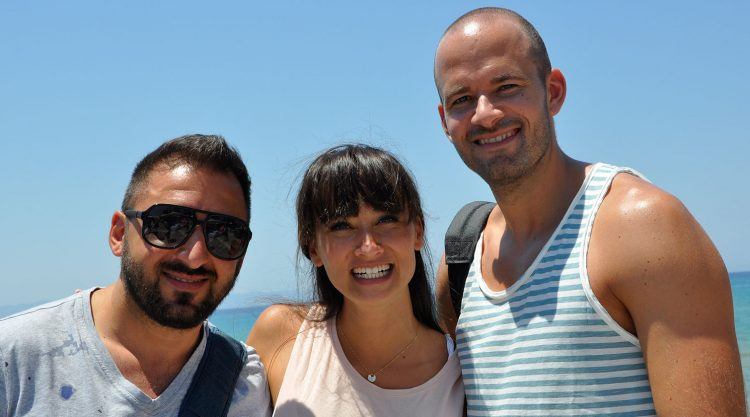 The "Get Stronger Week by PUMA" took place in the ROBINSON Club Kyllini Beach in Greece from June 16 to June 23. During one week, the PUMA assets and fitness expert Fernanda Brandao, runner Sabrina Mockenhaupt, fitness expert Anne Kissner, ex-handball professional Stefan Kretschmar and former world-class footballer Patrick Owomoyela trained and partied with holiday guests. The week full of fun and sports was organized by travel agency cooperation Best Reisen.