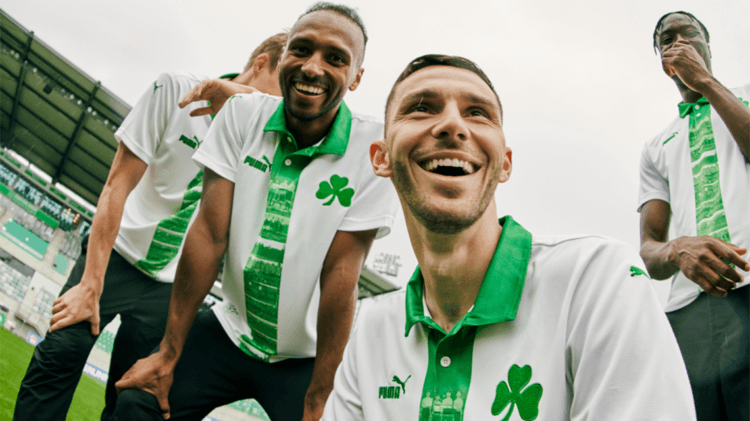 SpVgg Greuther Fürth celebrates 120 years together with PUMA
Happy Birthday, Kleeblatt!
September 25, 2023
Happy Birthday, Kleeblatt!
September 25, 2023
Happy birthday, Kleeblatt!

This Saturday, SpVgg Greuther Fürth turned 120 years old, and the birthday was celebrated with a slam! Fürth is not only our neighbour but has also been a part of the PUMAFam for quite a long time. Let´s go back in time and look at this incredible partnership!
PUMA and Fürth´s partnership started in 1950.  PUMA was only sponsoring the team´s shoes at this moment and Fürth won the 1950 German championship in the "PUMA Spitzenklasse"! Fürth´s Star-player in the 1950s, Horst Schade, scored game-changing goals in his PUMAs. What an amazing season for the partners!
Their partnership went beyond business: in 1950, SpVgg Fürth and the PUMA "Werkself" played against each other in a friendly match, strengthening their bonds, up until now.
Even though Fürth and PUMA had to end their partnership for some years, they had an even stronger comeback in 2020: PUMA now not only sponsors SpVgg Greuther Fürth´s kit and shoes, but also sponsors the educational program, promoting young talents!
On the marvelous birthday of SpVgg Greuther Fürth last Saturday, our "Mr. PUMA" alias Helmut Fischer was there to talk about PUMA´s and Fürth´s great history. For the special occasion, PUMA together with fans designed a special anniversary kit. It features important moments of SpVgg Greuther Fürth, starting with the 1914 German championship win, up to their promotion to the first Bundesliga in 2020.
Fans were also able to go on a historical tour of SpVgg Greuther Fürth´s stadium Ronhof, as well as other special activities. To make this birthday even more special, the Kleeblatt won the spectacular match with a 4:3 score, in minority against Karlsruher SC!
"Fürth suits PUMA. PUMA suits Fürth. They are our neighbours and they have accompanied us for quite a long time. We are very proud to support this club."