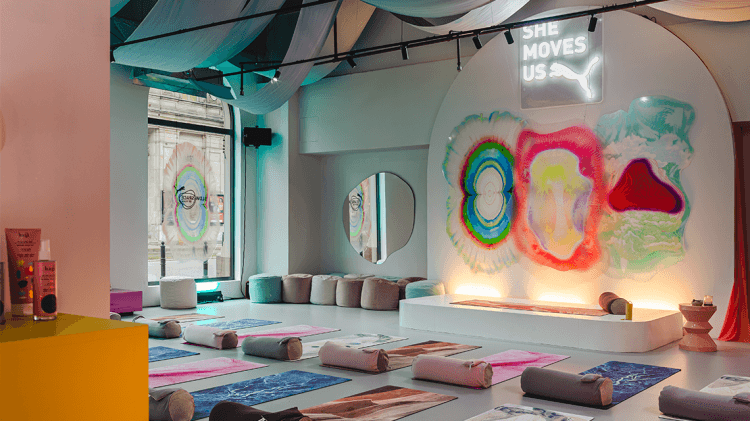 A Space for Relaxation
and Well-Being
Slow Space by PUMA: A Collaboration with Slow Living Poland to Support Mental and Physical Well-Being
January 16, 2023
Slow Space by PUMA: A Collaboration with Slow Living Poland to Support Mental and Physical Well-Being
January 16, 2023
Welcome to
Slow Space by PUMA!

PUMA teamed up with local project Slow Living Poland to create a space for women to

take a break from their everyday lives and take care of their well-being

. The project has the aim of bringing the female community together. Located in central Warsaw, Slow Space by PUMA welcomed a female audience into a safe space to take care of their physical and mental health.

🧘‍♀️ Take a look inside!

The month-long project was entered around four main themes, sisterhood, gentleness and emotional intelligence, intuition and senses, with the aim of helping women learn the tools and methods they need to relax and take care of their welfare. Slow Space by PUMA is the perfect escape to clear your head and focus on your wellbeing.
The one-month pop up project ran from November 7th to December 4th and offered women a variety of classes for their physical and mental health. Women were invited to take part in 34 different workshops on psychology and psychotherapy, yoga and pilates classes, beauty, weekend workshops and individual consultations with specialists. Twelve of the best experts in selected categories in Poland ran the classes to help strengthen and calm the body.
To participate in the classes, participants had to register on the website and pay a small fee. 400 people took part, and 90% of participants were women! All entrance fees were donated to the Można Zwariować Foundation, a foundation dedicated to starting social discussions on topics related to well being, mental health and breaking negative and harmful stereotypes.
Podcast
The Slow Podcast by Slow Living Poland is a weekly podcast on knowledge and inspiration on how to lead a high quality life. In collaboration with Slow Space by PUMA, The Slow Podcast ran a dedicated series of five episodes to discuss the themes from the workshops. Ola Kwiatkowska, the founder of Slow Living Poland, invited She Moves Us Ambassadors Ofelia, ADiHD Sisters and Kasia Zillmann onto the podcast to discuss the importance of mental and physical well being. The show has been played over 29,000 times!