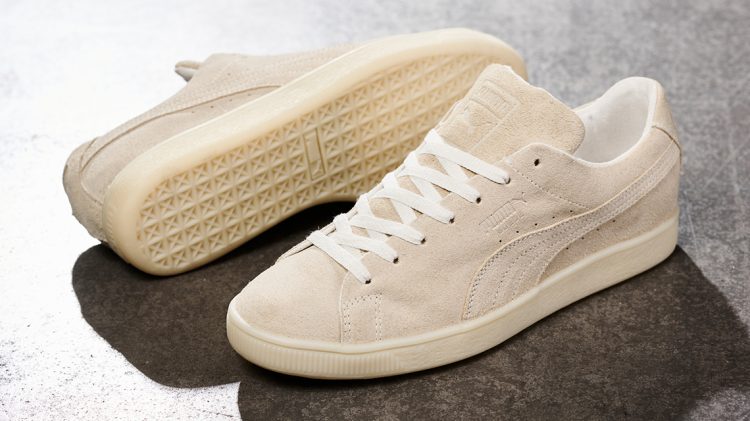 Join our RE:SUEDE
experiment in
biodegradability!
Sign up for your chance to be part of PUMA's experiment in biodegradability
February 24, 2022
Sign up for your chance to be part of PUMA's experiment in biodegradability
February 24, 2022
Would you like to test our new RE:SUEDE? With the RE:SUEDE project, PUMA has the ambition to set new standards of sustainability for our iconic SUEDE. We´ll test whether the sneaker can biodegrade in the controlled setting of an industrial composting facility. Right now, we are looking for 500 people in Germany to join our brand ambassadors such as Cara Delevingne and Raphaël Varane. Are you in?
"We want participants to wear the RE:SUEDE as part of their daily routine. That is how we can gather realistic feedback about the durability of the materials used in the sneaker."
Stefan Seidel, Head of Corporate Sustainabilty at PUMA
ARE YOU IN?
Sign up to join our experiment in biodegradability! You can register on our website by March 14.
01 RE:SUEDE
If you live in Germany and are chosen to be part of RE:SUEDE, you'll receive a free pair of exclusive sneakers to wear and love for six months.
02 RETURN 
After six months, we will ask you to return your RE:SUEDE sneakers. This is an essential part of the experiment. The Circular Lab team will then assess the feedback from the testers and take the used products to the next phase of the experiment.
03 REGRIND
The biodegradation process begins. At Ortessa, an industrial composting facility in the Netherlands, the RE:SUEDE materials will be exposed to bacteria and natural composting agents. The ambition is to produce Grade A compost.
04 RESULTS
We will share the results of the RE:SUEDE experiment with our industry peers, to find better solutions for the waste management challenges the whole industry faces. Even though the RE:SUEDE looks like its predecessor, which has been one of PUMA's most iconic models since the 1960s, biodegradability has been the main focus of our RE:SUEDE program. This is reflected in the choice of materials, such as Zeology tanned suede, biodegradable TPE and hemp fibres.