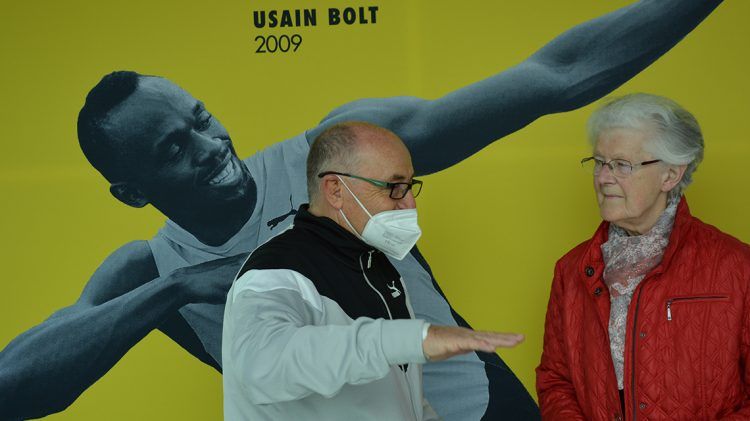 Our
first
trainee
PUMA's first trainee visits headquarter for an exclusive bridge tour
June 2, 2021
PUMA's first trainee visits headquarter for an exclusive bridge tour
June 2, 2021
She was
PUMA's first trainee in 1950

.

Elfriede Wagner

was 16 years old when she started her job in the department for contract work, shipping, correspondence and accounting. Now, the 87-year-old dropped by at our headquarters for an

exclusive bridge tour with Mr. PUMA

, Helmut Fischer and for a

quick Meet & Greet with our CEO, Bjørn Gulden

. Elfriede came prepared. She had brought along a lot of anecdotes and her testimonials from back then –

signed and written by PUMA founder Rudolf Dassler

.
I sometimes had to walk his dog.
When she read about the impressive PUMA bridge in the local press, she wanted to see it with her own eyes. Now Elfriede Wagner had the chance to return to PUMA after 65 years.
When she first started working for the company, there were only four other employees with her taking care of office work. Back then, PUMA produced mainly slippers. This is not the only thing that has changes massively.
Elfriede left PUMA after six years, but she never forgot her time at the company. Her manager, PUMA founder Rudolf Dassler, trusted her and gave her responsibility early on. She refers to him as a good, but direct boss. Accordingly, also her reference letter was written very positively. Elfriede carried her certificates with her and showed them very proudly. All of them were signed by Rudolf Dassler.
Elfriede was also met PUMA's current boss, CEO Bjørn Gulden. We hope it was an unforgettable afternoon for Elfriede Wagner.