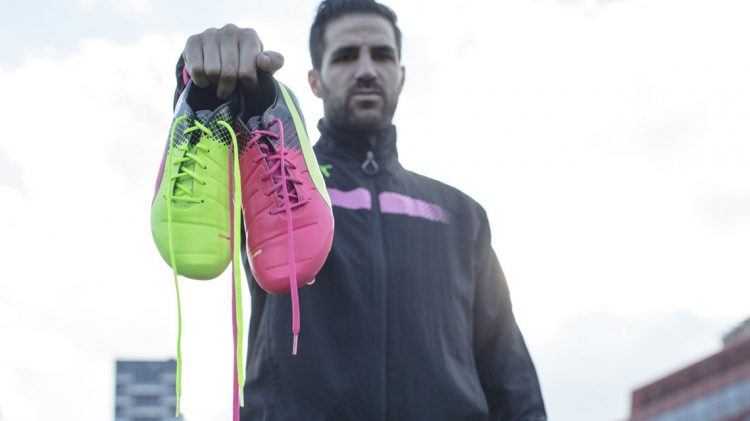 Show 'em your Tricks
For the Euro 2016 PUMA did the unthinkable again ....
April 21, 2016
For the Euro 2016 PUMA did the unthinkable again ....
April 21, 2016
"Made for the unbelievable – For athletes, who believe in themselves and who just don't want to stay on the pitch, but make history."
Right in time for the EURO 2016 in France, PUMA reinvented the explosively colored football boots PUMA Tricks that already stood out in the World Cup in Brazil two years ago. This time, our designers went for an eye-catching and striking Pink Glo and Safety Yellow after it was pink and blue in 2014.
The Tricks boots come in two different versions: the evoPOWER 1.3 with its barefoot kicking principles and increased flexibility for more kicking power and the evoSPEED 1,5, that are light and responsive for improved speed and maneuverability.
Looking back at the long history of football, the Tricks couldn't be a greater contrast to the conventional football boots in black and white of the past millenium. Bright colored boots were unheard of and two differently colored shoes absolutely impossible. But fortunately, this situation has changed and colorways of football boots have become much more bold.
CATch up talked to our Global Creative Director Torsten Hochstetter about what triggered that change.
Football shoes have become more colorful and brighter. Why do you think that is?
This is pretty obvious to me. During his career, a football player is forced to wear a uniform, which is the team jerseys and the apparel of his clubs. So players have only a few spaces left to display their individuality.
How did the importance of an athlete's footwear change?
The shoes were the big void that was discovered by the players as a tool to express their individuality. It started with names being stitched on the boots, then the colors of the boots gained in importance. But hairstyles and tattoos play a similar role nowadays. In recent years, shoes have been a valve for football players, who want to show their personality to the world.
What was the inspiration for the new Tricks colorway?
We chose these specific colors, because of their high contrast to one another. On top, these colors are per se interesting as basic colors for contemporary football boots. They are in line with the trends of this season and represent what PUMA stands for. Rigobert Song's (former Cameroonian footballer and PUMA player (Ed.)) appearance in the World Cup 1998, when he decided to lace up two different colored PUMA King boots, served as the original inspiration for Tricks. As Song said, "you must be bold" to wear two different colors on each foot, which is the kind of attitude that PUMA as a brand represents. Quite right, the new Tricks campaign is called "Play loud".
Why do you consider our assets ideal to present these very special football boots?
First of all, it is important that the assets fit to our brand. And they do: they are brave, confident determined and joyful. The product reflects these traits in a very special way, which is why the Tricks, our assets and the PUMA brand are a perfect fit.