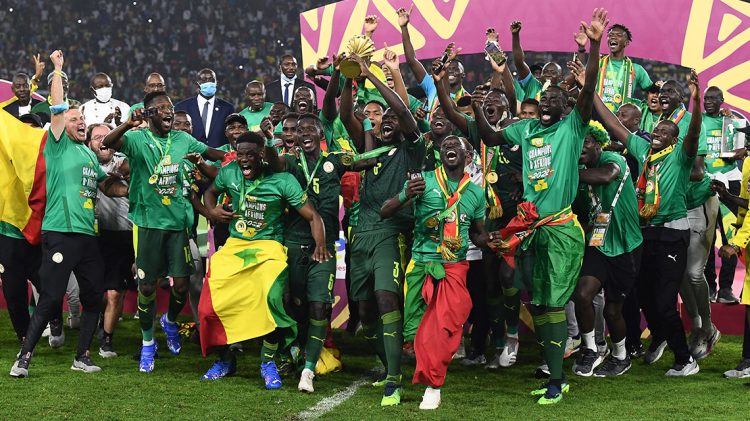 Senegal
wins
AFCON final
PUMA team Senegal wins Africa Cup of Nations against Egypt in penalty shootout
February 6, 2022
PUMA team Senegal wins Africa Cup of Nations against Egypt in penalty shootout
February 6, 2022
Senegal decided the all-PUMA final of the Africa Cup of Nations in a penalty thriller against Egypt on Sunday night, winning Africa's most important trophy in football for the first time.
For PUMA it has been a great event. No sports company supplied more teams during the Africa Cup of Nations than we did, with Senegal, Ghana, Ivory Coast, Morocco, and Egypt all featuring leaping cats on their jerseys.
Senegal were on the attack from the outset. After only four minutes, they were already given a penalty but did not take the early lead thanks to a superb save by the Egyptian keeper. They continued as the more offensive side throughout the match but Egypt's defense was tight and the Lions of Teranga failed to get in the final touch to score a goal. With the score still 0-0 after 120 minutes, the game went to penalties, which Senegal won 4-2.
After a slow start to the tournament in the group phase, Senegal powered through the knock-out stages of this year's Africa Cup of Nations by beating Cape Verde, Equatorial Guinea and Burkina Faso to reach Sunday's final. As the team lost the AFCON final in 2019, it was a great moment for the country when their team captain PUMA player Kalidou Koulibaly lifted the trophy for the first time in Senegal's history.
Egypt on the other hand had to go into extra time in all of their three knock-out matches (Ivory Coast, Morocco and Cameroon) this year and had to decide a game on penalties twice.
Egypt and Senegal will meet again later this year for two matches to decide who will participate in the World Cup.
View this post on Instagram