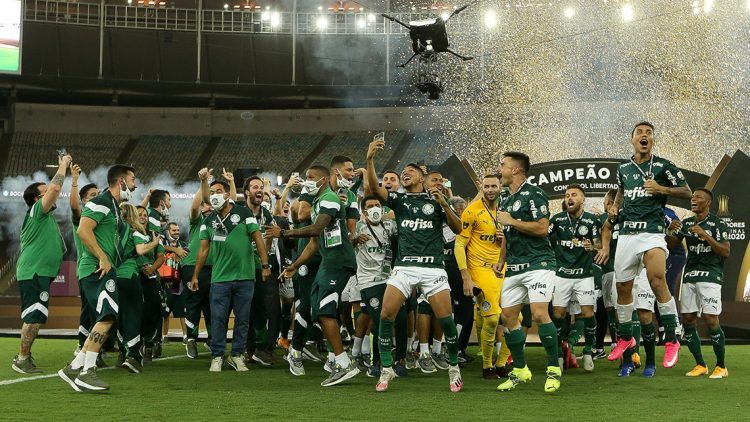 Victory
for
Palmeiras
PUMA team Palmeiras wins Copa Libertadores
January 31, 2021
PUMA team Palmeiras wins Copa Libertadores
January 31, 2021
PUMA Team Palmeiras on Saturday won the Copa Libertadores, the highest trophy in club football in Latin America, after beating Santos 1-0 in a tight final in Rio de Janeiro.
For Palmeiras it is the second Copa Libertadores title. The last time the team from São Paulo, Brazil won, was more than 20 years ago in 1999.
It was a very tight and physical match in Rio's famous Maracanã stadium until the 9th minute of stoppage time, when Palmeiras player Breno Lopes headed a skilful cross by Rony into the far corner of the goal. Breno Lopes had come off the bench just a few minutes earlier.
"There is nothing in this world, not money and nothing else that could pay for the deep sense of gratitude we feel at this moment," Palmeiras goalkeeper and PUMA Player Weverton said after the match. Weverton made an important save in the 77th minute to keep his team in the game.
The Copa Libertadores has been held every year since 1960 and includes teams from all over Latin America.
Palmeiras posted the video below on Twitter, where you can see the players singing "O Maraca é nosso" (Maracanã is ours) in the dressing room.
PUMA Brazil posted this video on social media to celebrate the victory and the striking green shirt of Palmeiras. "People saw it, from all sides and in all ways. In everything that is green in the whole country. People saw this shirt make history. Green is the color of America," the clip says.
From all of us at PUMA: Congratulations on this amazing achievement, Palmeiras!